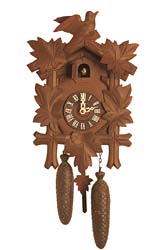 Shell command eject that is available by default in most of Linux distributions, allows to open and sometimes close removable media tray (usually it's CD-ROM or DVD media).
To eject media:
eject /dev/cdrom
or
eject cdrom
As you see the name of device can be a device file or mount point, either a full path or with the leading "/dev", "/media" or "/mnt" omitted. If no name is specified, the default name "cdrom" is used. With -c option a CD slot can be selected from an ATAPI/IDE CD-ROM changer.
To close tray:
eject -t cdrom
Dear reader, I hope you know what use eject command for if you came here, but let me suggest one more application. You can use this command to make your own cuckoo clock!
Just put little shell script opening and closing cdrom or dvd tray into cron…