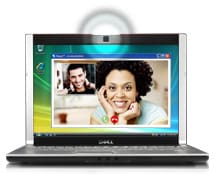 Dell position XPS M1330 as one of the thinnest and lightest notebooks in its class, as really portable notebook (weight is under 4 pounds or 1.8 kg). On January 23, 2008 it was announced that Spain, Germany, France, UK consumers can purchase this notebook with Ubuntu 7.10 Linux pre-installed. As usually announcement was made at Direct2Dell blog:
Since we've began offering Ubuntu on some consumer systems, two clear areas of feedback from the IdeaStorm community and Direct2Dell readers have been: offer Ubuntu on more hardware, and offer it worldwide.This Ubuntu-related post is still the third most commented post in Direct2Dell's history-many of the 654 comments are asking for it in more countries.
Looking through XPS M1330 technical information (Intel Core Duo up to 2.20GHz, up to 4Gb RAM, 128 MB Video, 200GB HDD, etc.) and price starting from £599, I would like to say that this Dell's product definitely has future. And it's too bad I don't live in Spain, UK… 🙂
Get more information on the laptop here, the next step would be to customize and buy one while notebooks are hot!