As we know Ubuntu Gutsy Gibbon is released already and as this OS is extremely popular most of mirror servers we can download or upgrade Ubuntu from are overwhelmed by huge amounts of downloads. In my case I tried to upgrade my Feisty several times but there was no luck (downloading stuck at different points).
But thanks to Ubuntu developers there is nice feature that allows to set server you have the fastest peer to as a source of apt packages (and as the result, upgrade source). Just go to System -> Administration -> Software Sources and select "Other…" at drop-down list named as "Download from:". At the next window you'll see the list of all mirrors available and the button "Select Best Server" that you need to press on. After several tests performed you'll be suggested to select best server to get packages from. Now enjoy new speed!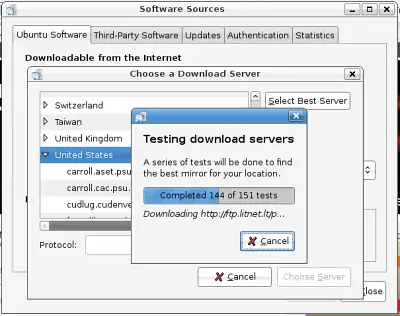 If you're new Ubuntu user the fastest way to get Ubuntu Gutsy ISO these days is to download it from this torrent.
Enjoy Ubuntu! 🙂
Information Improvisation: With every passing day technology is improving and companies are able to provide better web hosting services. The digital divide has reduced and backup facilities are common on servers. These can be done efficiently with broadband connectivity. Companies now require more professional people than before, here certifications like 70-270 provides required knowledge and skills. Organizations now depend on professionals who have certifications like 70-297. Companies these days face stronger competition and rely more on firms that provide affiliate marketing for their business on internet.