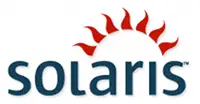 In order to use install man pages for various commands in Solaris it is necessary to get two packages: SUNWman and SUNWdoc. You can check if they are already installed using commands 'pkginfo SUNWdoc' and 'pkginfo SUNWman', or just try 'man man'. If they are not present in your system you can install them from Solaris 10 cd-rom (I guess you're using exactly this version of Sun' operating system):
1. Mount cd-rom:
mount -F hsfs /dev/dsk/c0t1d0s2 /mnt/
where c0t1d0s2 is identifier of your cd-rom and may differ from system to system.
2. Install Packages:
pkgadd -d /mnt/Solaris_10/Product SUNWman
pkgadd -d /mnt/Solaris_10/Product SUNWdoc