Today it was announced that KDE 4.0 is finally released and as it was proudly noted in press release, with this major version the KDE Community marks the beginning of the KDE 4 era.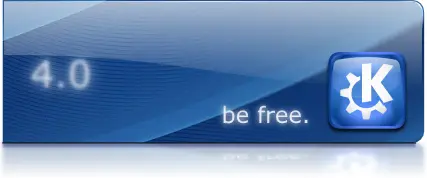 K Desktop Environment was created in 1996 by Matthias Ettrich, who was troubled by UNIX certain aspects and proposed the formation of not only a set of applications, but rather a whole desktop environment, in which users could expect things to look, feel, and work consistently.

Major version KDE 4.0 comprises numerous improvement that can be grouped as follows: libraries, desktop, applications and artwork. Full list of updates and improvements is too long to quote it here, so you might read it from protosource (:
Official announcement page, KDE 4.0 Visual Guide
Here are some significant points of the new system:
The KDE 4 Desktop has gained some major new capabilities. The Plasma desktop shell offers a new desktop interface, including panel, menu and widgets on the desktop as well as a dashboard function. KWin, the KDE Window manager, now supports advanced graphical effects to ease interaction with your windows.

Visual updates through vector-based artwork, changes in the underlying libraries, user interface enhancements, new features, even new applications — you name it, KDE 4.0 has it. Okular, the new document viewer and Dolphin, the new file manager are only two applications that leverage KDE 4.0's new technologies.
Soon after KDE Community announcement, Kubuntu KDE 4.0 live CD became available and it is one of ways to get familiar with new KDE 4.0 today. ~ 550 MB ISO images are freely downloadable here (servers are overloaded right now, so be patient 🙂 ).