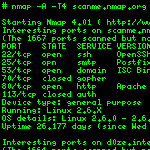 Nmap is well known open source tool for security auditing and many other related network exploring activities. Here is it's developers' description taken from their site:
Nmap uses raw IP packets in novel ways to determine what hosts are available on the network, what services (application name and version) those hosts are offering, what operating systems (and OS versions) they are running, what type of packet filters/firewalls are in use, and dozens of other characteristics. It was designed to rapidly scan large networks, but works fine against single hosts. Nmap runs on all major computer operating systems, and both console and graphical versions are available.
Few days ago latest version 4.50 of this outstanding tool was released celebrating 10 years anniversary. Among notable changes are Zenmap GUI, new generation OS detection, the nmap scripting engine, new host discovery system, advanced

traceroute and ~ 1500 new version detection signatures. Full changelog is here, binary packages for almost all operating systems (including Linux, BSD, Windows) can be downloaded at project's download page.
One of major changes in 4.50 is multi-platform Graphical User Interface (GUI) that would be helpful for nmap newbies as well as experienced people. Manual page is here, screenshot is right 🙂