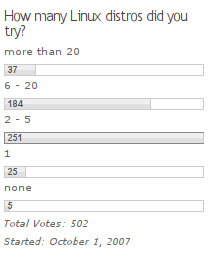 I think it's time to finish survey that was started at Linux Screw a month ago and announce it's results. First of all thanks for all people who took part and gave his (her) vote, it's really appreciated.
So, most of people (251) tried from 2 to 5 Linux distributions on their way to freedom :). The second place was taken by geeks who checked from 6 to 20 distros (184). I'm one of them (among distributions I tried are: Ubuntu, Debian, Fedora, RedHat, CentOS, Knoppix and many others that aren't so widespread). 25 people tried only 1 (one!!!) distro… I guess it was pre-installed Linux…
Nice to know that there are people who tested more than 20 distributions. Good luck to you, people!
Um… and 5 people who tried no distros at all… Welcome here! By the way, M$ Windows sucks!