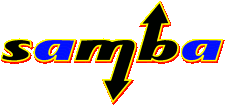 Historically domain controllers (DCs) were Windows servers responding to security authentication requests (logging in, etc.) within the Windows Server domain. Today Samba project goes beyond emulating Windows shares and can be used as Primary Domain Controller in Windows network.
To help people who are under installing/configuring Samba as a DC in their network I published here several links which helped me with this task. First of all, be ready for long time configuring as compared with Windows Active Directory configuration it takes much more time to do the same task with Samba… But practically vendor independent solutions usually worth time spent on compiling, installing, configuration and maintenance.
Why Debian/Ubuntu? Looking through Google's findings regarding DC set up on these distributions, I noticed some kind of lack of the quality resources lying at the top.
1. The first place one should visit in order to start with above mentioned task is Samba official documentation. Probably not everything that is covered by it would be used, but this is the only place you can find some special aspects of installation and configuration their software.
2. Ricky Jone's article on howtoforge.com is an excellent guide on how to get the task done on Ubuntu 7.10.
3. Excellent article "SAMBA (Domaincontroller) Server For Small Workgroups With Ubuntu 6.10" written by Till Brehm is applicable also for later Ubuntu versions.
4. Steve Lacey wrote interesting and informative article about Samba on Debian as primary DC on his blog.
5. A certain mawi wrote very informative manual: