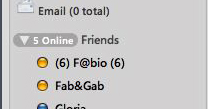 1. Mercury Messenger is Java-based MSN client. Nice and powerful MSN client. Among it's features I would mention the following ones:
Support for multiple operating systems (you can run the same Mercury version on Mac OS X, FreeBSD, Linux and Windows)
USB Stick Support (all settings, chat logs, etc… will be saved on your USB stick)
Be online with several MSN addresses at the same time (without starting a new program for every account)
Login with your status on 'Invisible' or any other status you want.
Have a different MSN name in every conversation (Personal name)
Send screen shots to your contacts
On screen display of events
Movable event box (the window that shows events at the right bottom of your screen in MSN)
Avatar scroller, automaticly change your avatar every 5 minutes
Override someones avatar
Enter notes while in a conversation you might need later (date of birth, last name, phone numbers
And many more…
Download it from here.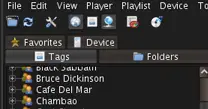 2. aTunes is a full-featured audio player and manager, developed in Java programming language, so it can be executed on different platforms: Windows, Linux and Unix-like systems. It's features list is impressive, you can get it here. Download latest version from this page.