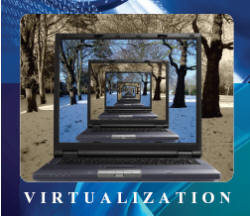 Actually there are a lot of resources describing why virtualization matters, but here is one more informative article.
Virtualization is one of those buzzwords that is being freely floated around the industry left and right, and can mean so many different things to so many different people. Lately, virtualization has been getting a lot of press coverage, and industry analysts are telling business organizations that this is a "must have" technology. It's even been said that if you haven't already at least started to look at how virtualization can be used within your company, you're probably already falling behind.

So, what exactly is virtualization? In the context of this discussion and to put it in the most simplistic terms, virtualization technology is a way of making a physical computer function as if it were two or more computers or even a totally different computer altogether. Obviously, as stated, this is a very simple explanation of a complex term and is coming from a 20,000-foot view of things. However, it's enough to get you started down that road of thinking.
From a business perspective, there are many ways in which your organization can benefit from using virtualization:
Maximize resources
Test and development optimization
Quickly respond to business needs
Reduce business continuity costs
Solve security concerns