Packet Tracer is Cisco Network Simulation Software that is natively available for Micro$oft Windows users only. But thanks to Wine project we can use it in Linux as well.
Packet Tracer is a self-paced, visual, interactive teaching and learning tool. It is designed to increase interaction between students and instructors, promote student learning, and enhance instructor presentations. This technology is a new and fun way to expand teaching and learning experiences beyond the limitations of a traditional lab environment. Packet Tracer helps resolve some common challenges that instructors face on a daily basis, while enabling us to explore new frontiers in networking education.
To install Wine just use package manager of your Linux distro or compile it from sources. For example, to install Wine on Ubuntu that is my preferred distribution, it's enough to run command: sudo aptitude install wine (Fedora users should run sudo yum install wine and so on). Before use Wine I recommend to get familiar with this howto.
After Wine is installed, just run winecfg with your favorite terminal emulator like gnome-terminal and set up Wine as you wish. Actually you can leave setting as they are but first run of winecfg is necessary after installation of Wine (it will create folder ~/.wine that will contain Windows applications you install and run).
To install Packet Tracer 4.1 (or any other version) just run:
wine /path/to/PacketTracer_setup.exe
and proceed installation as you're running it with Windows. Errors like:

fixme:reg:GetNativeSystemInfo (0x34fea0) using GetSystemInfo()
fixme:process:IsWow64Process (0xffffffff 0x34fe9c) stub!
fixme:advapi:CheckTokenMembership ((nil) 0x170240 0x34fe1c) stub!
err:richedit:ReadStyleSheet ReadStyleSheet: skipping optional destination

are usual thing when you run Windows applications with Wine.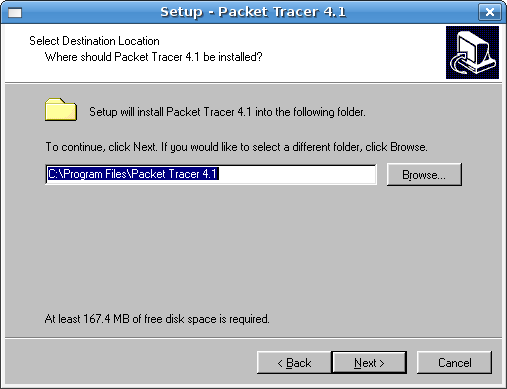 After installation is finished you can run Packet Tracer by clicking on shortcut that was created by Setup program or run:
wine ~/.wine/drive_c/Program\ Files/Packet\ Tracer\ 4.1/bin/PacketTracer4.exe


(depends on which path you've chosen during the setup procedure).
And that's it, you can use Packet Tracer in Linux now!