[digg-me] Really interesting device was found today in the vast expanses of Internet. Company named Aleutia (established in London, 2006) sells extremely mini PC that consumes really small amount of energy (8 watts!!!), runs Linux and can be powered by sun! It's named Aleutia E1 and is available starting at 180 £. See details below!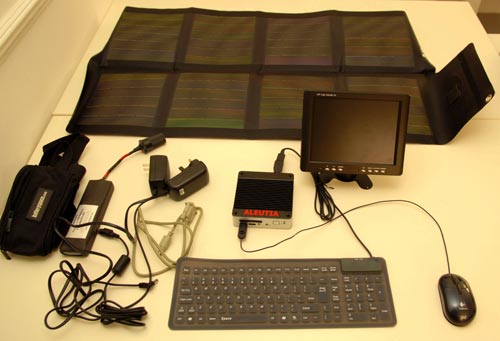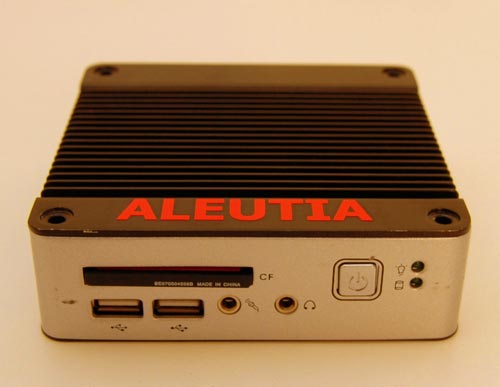 Seller announces the following product specifications (see detailed specs here):
Processor: 200MHz x86 CPU, Memory: 128MB SDRAM, Storage: 2GB (included Compact Flash card), Power Supply (US, UK, or EU).
3 x USB 2.0 ports (480Mbps transfer rate), 1 x 10/100 Ethernet port, VGA port to connect LCD display (supports resolutions up to 1280×1024)
Power consumption of 8W with CPU and SDRAM running at full speed. With external devices (USB 2.0 CD Rewriter, USB-powered hard drive) power consumption rises to 11W.
Dimensions: 11.5cm (Width) x 11.5cm (Lenght) x 3.5cm (Height)
Puppy Linux Operating System (version 2.14) – similar in appearance to MS Windows, stable, and pre-installed.
Excel-compatible spreadsheet software (Gnumeric), Word-compatible word processor (Abiword)
Looking at these specs and using Google it was discovered that Aleutia sells Norhtec's device The MicroClient Jr! Do you see the difference at the pictures below? Maybe hand? 😉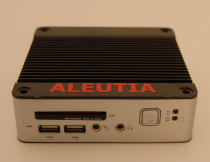 By the way, Norhtec's one is of 120$… From Norhtec's site:
The MicroClient Jr. is a revolutionary device that is especially designed for installations having limited physical space and temperature concerns. It does not matter if you are in a jammed office, a crowded place, or public transportation – it can be easily integrated with a VESA LCD to bring you computer access at any time.

It can attach to any VESA mounting fixture, allowing it to be securely mounted onto desks, room walls, or buildings, and thereby optimizing your work area. It can also attach directly to LCDs of any size to create a mobile system for the use at trade shows, presentations, promotions, etc. Unlike the traditional laptop design, the MicroClient Jr. can be used with a large size LCD. Furthermore, with FANLESS design, MicroClient Jr. is ideal for use in hot climates without air conditioning.
Get more details on The MicroClient Jr. here… Sweeeet! 🙂