The rise and rise of the Raspberry Pi's popularity – as a home server, media box, emulation machine, or maker platform – has led to a host of imitators, and in some cases, successors.
Finding the right single-board computer for your project will make development easier- so here's a summary of some of the single-board computers getting about in 2021.
8 Best Alternatives to the Raspberry Pi
We'll only include boards with built-in memory and video out – all in one single board computers and limit to boards with GPIO for sensors and controlling motors and building things – true Pi replacements.
Need a single-board computer and want something other than a Pi? Below are the best 8 alternatives to the Raspberry Pi:
Banana Pi M4
http://www.banana-pi.org/m4.html
The Banana Pi M4 is an affordable rival for the Raspberry Pi 4. It has a similar form factor to the Pi 4 but with a full-sized HDMI port and a lower price – which some would consider an advantage over the latest Raspberry Pi, though it does have weaker video playback.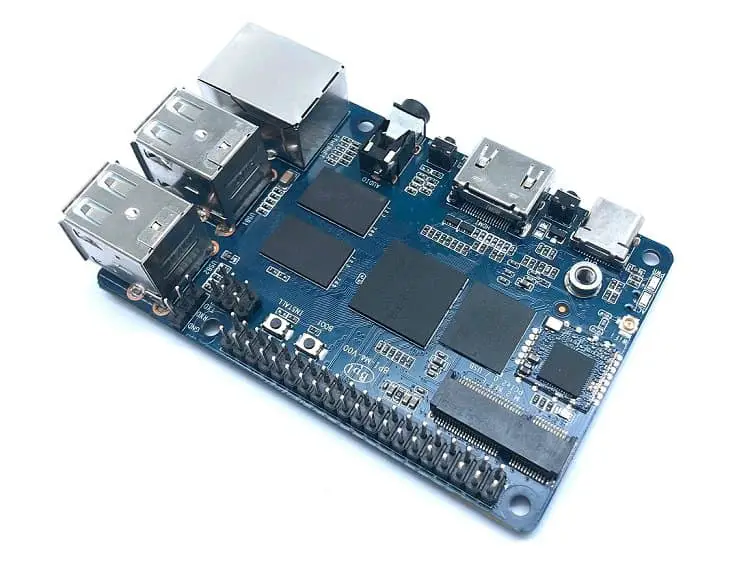 HardWare Specification of Banana pi BPI-M4
CPU
Realtek RTD1395 ARM Cortex-A53 Quad-Core 64 Bit
GPU
Mali 470 MP4 GPU OpenGL ES 1.1/2.0
Memory
1 GB DDR4 (option 2 GB)
Storage
MicroSD slot with support for up to 256GB expansion and 8GB eMMC flash with support for up to 64GB.
Network
10/100 Mbit/s Ethernet + Wi-Fi 802.11b/g/n/AC + Bluetooth 4.2
Video Output(s)
1080p capable HDMI port and multi-channel audio output (NO H./X.265 capabilities)
Audio Output(s)
3.5mm jack and HDMI
PCIe
M.2 Key E slot PCIe 2.0 and USB 2.0
USB ports
USB 2.0 PORT (x4), USB 2.0 TYPE C(x1)
GPIO
40 Pin Header: GPIO (x28) and Power (+5V, +3.3V, and GND). GPIO pins can be used for UART, I2C, SPI, or PWM
Switches
Reset, Power and U-boot
LED
Power Status and Activity status
Power Source
5 volt @2A via Micro USB (TYPE C) or PoE support
Size & Weight
92x60mm, 48g
OS
Android and Linux
Orange Pi 4
http://www.orangepi.org/Orange Pi 4/
The Orange Pi series of single-board computers offer similar features to the Raspberry Pi in various form factors. An advantage they have over other maker boards is their popularity, making finding resources for them easier.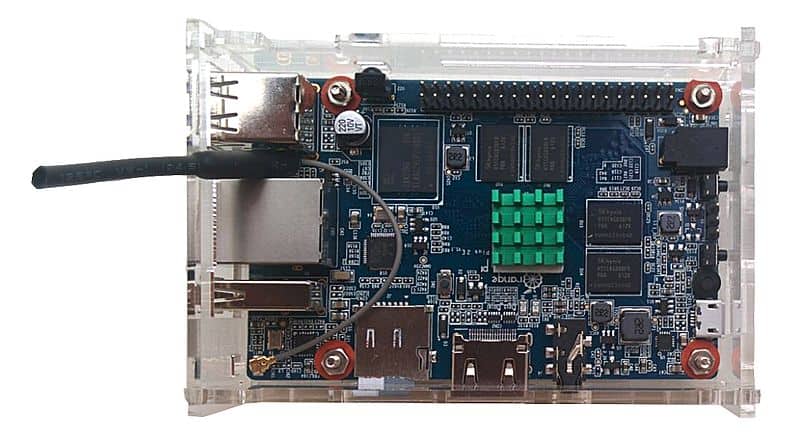 Hardware Specification For Orange Pi 4
CPU
Rockchip RK3399 (28nm HKMG process)
6-core ARM® 64-bit processor, main frequency speeds up to 2.0GHz
Based on the large and small size core architecture of big.LITTLE:
Dual-core Cortex-A72 (large core) + Quad-core Cortex-A53 (small core)
GPU
Mali-T864 GPU
Supports OpenGL ES1.1/2.0/3.0/3.1,
OpenVG1.1,OpenCL, DX11, support for AFBC
PMU
RK808 PMU
Memory+Onboard Storage
Dual 4GB LPDDR4 + 16GB EMMC Flash
Dual 4GB LPDDR4 +EMMC Flash(Default Empty)
On-board WIFI+Bluetooth
AP6256, IEEE 802.11 a/b/g/n/ac, BT5.0
Network
10/100/1000Mbps Ethernet( Realtek RTL8211E )
Audio
Output: 3.5mm Jack and HDMI2.0a
Input: MIC
Video Outputs
1 x HDMI 2.0 ( Type-A ), Supports [email protected] output
1 x DP 1.2 (Display Port), Supports [email protected] output
Supports Dual MIPI-DSI ? 4 lines per channel?
Camera
2 x MIPI-CSI Camera connector (MIPI_RX0?MIPI_TX1/RX1)
USB
2 x USB2.0 HOST?1x USB3.0 HOST, 1 x USB3.0 Type-C
RTC
Support RTC, on-board battery backup interface
Debug UART
3 pins Debug UART
GPIO
GPIO1 40 pins?1 x I2S?2 x I2C?1 x SPI/UART?8 x GPIO?
GPIO2 24pin PCIE port
Key
Upgrade Key & Reset Key
Power Source
DC 5V/3A TYPE-C 5V/3A
LED
Power led & Status led
OS Support
Android 8.1
Ubuntu 16.04
Ubuntu 18.04
Debian 9
PCB
8 Layer
Dimension
91mm*55.7mm
NanoPi NE04
https://www.friendlyarm.com/index.php?route=product/product&product_id=241
The NanoPi NE04 is a compact alternative to a full-sized Raspberry Pi. It supports many of the same features at a similar price point, with native Android OS support.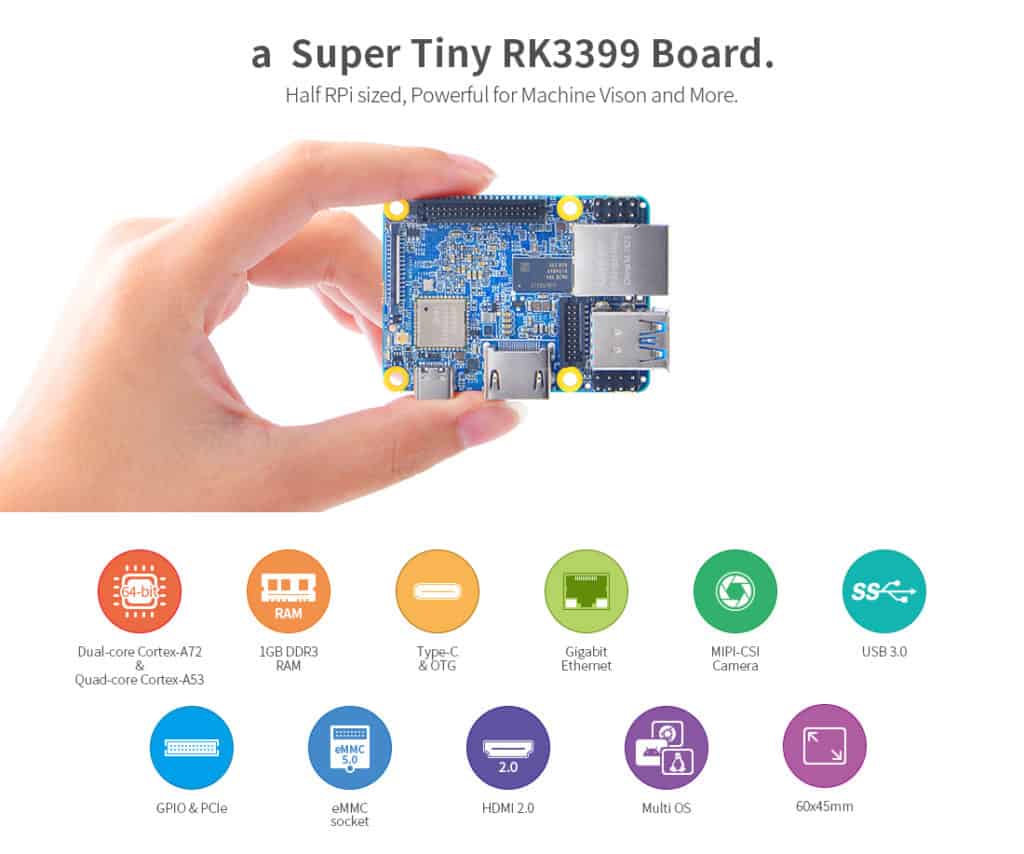 Hardware Specification For NanoPi NEO4
CPU:
Model: Rockchip RK3399?
Number of Cores: big.LITTLE, 64-bit Dual Core Cortex-A72 + Quad Core Cortex-A53?
Frequency: Cortex-A72(up to 2.0GHz), Cortex-A53(up to 1.5GHz)
GPU:
Mali-T864 GPU? supports OpenGL® ES1.1/2.0/3.0/3.1, OpenCL™, DX11, and AFBC
VPU
4K VP9 and 4K 10bits H265/H264 60fps decoding, Dual VOP, etc
DDR3 RAM:
1GB DDR3-1866
Storage:
eMMC: no Onboard eMMC, but has a eMMC socket
USB Host:
USB 3.0 x1: USB 3.0 Type-A ports?
USB Type-C x1: Supports USB2.0 OTG and Power input?
USB 2.0 x2: USB 2.0 Host, one is Type-A, the other is 2.54mm header
WiFi:
802.11 b/g/n, Bluetooth 4.0 combo module
Antenna Interface:
Antenna x1: IPX Connector
Audio input/output Port
Video Input: one 4-Lane MIPI-CSI, up to 13MPix/s?
Video Output: HDMI*1: HDMI 2.0a, supports [email protected]?HDCP 1.4/2.
microSD Slot:
MicroSD x1 for external storage up to 128GB
LED:
Power LED(Red) x1
GPIO Controlled LED(Green) x1
PCB Dimension:
8 Layer? 60 x 45mm
Power:
DC 5V/3A
UDOO Bolt V8
https://shop.udoo.org/udoo-bolt-v8.html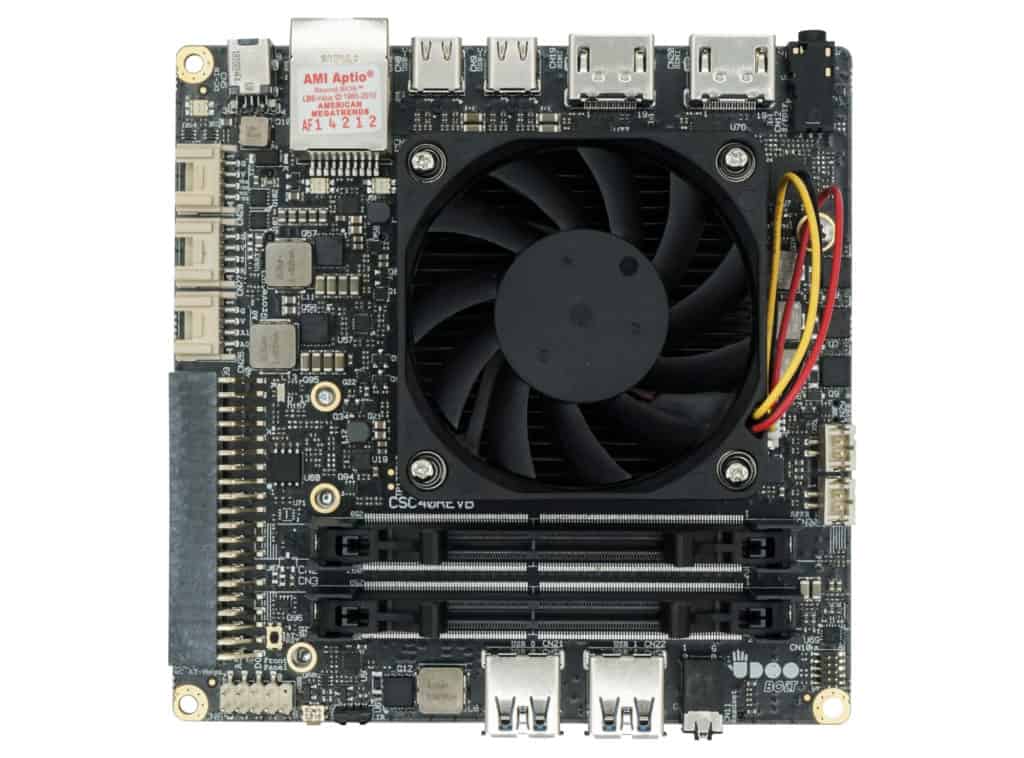 The Rolls Royce of single-board computers, comparing this to the Raspberry Pi, is almost an insult to the Bolt. This is a full desktop machine crammed onto a tiny board, powerful enough for gaming. It's expensive, it's overkill, but it has built-in Arduino and GPIO headers, so it also falls into the Raspberry Pi category.
Hardware Specification For UDOO Bolt V8
Processor
AMD Ryzen™ Embedded V1605B Quad Core/eight Thread @ 2.0ghz (3.6ghz Boost)
Cores
4
Memory
2x Ddr4 Dual-channel 64-bit So-DIMM Sockets With Ecc Support Up To 32GB 2400 Mt/s
Graphics
Amd Radeon™ Vega 8 Graphics (8 Gpu Cu)
Video Interfaces
2 X Hdmi 1.4 / 2.0a (Cec).
2 X Dp Alternate Mode On USB Type-c
Mass Storage
32GB Emmc 5.0 High-Speed Drive
SSD SATA Module Slot M.2 Socket Key B 2260
(Featured Also Pci-e X2)
Nvme Module Slot M.2 Socket Key M 2280
(PCI-e X4 Gen 3 Interface)
Sata 3.0 6 Gbit/s Standard Connector
Networking
Gigabit Ethernet (Rj-45) Realtek Rtl8111g
Wifi/bt Combo Module Slot M.2 Socket 1 Key E 2230
USB
2x Usb 3.0 Type-A

2x Usb Type-C:
– Usb 3.1 Gen 2< BR> – Displayport Alternate Mode
– USB Power Delivery (USB-PD) 3.0

Multimedia
Directx® 12, Opencl™, Opengl®, The Vulkan® API
H.265 Decode & Encode (8-bit), Vp9 Decode
Audio
Hd Audio Codec Realtek Alc888
3.5" Combo Connector: Headphone + Microphone
3.5" Combo Connector: S/pdif Optical + Stereo
Pre-amplified Stereo Speaker Connectors
Other Interfaces
Front Panel Header, Consumer-ir Receiver,
Fan Controller, Rtc Battery Included
Power Supply
DC IN Jack 19V 65W
USB Type-C Power Delivery
Operating Systems
Windows 10, 8.1
Any Linux Distribution for X86 64bit platform
Dimensions
12CM X 12CM – 4.72" X 4.72"
Microcontroller
ATmega32U4
Arduino Pinout
Arduino Leonardo-compatible
Digital I/O Pins
Arduino Leonardo-compatible I/O:
– 12x Analog Inputs
– Up To 23x Digital I/o (7 PWM)
– 1x Uart, 1x I2c, 1x Spi3x Grove Connectors:
– 1x Analog Input, 1x Uart Or Digital I/o,
1x I2c Or Digital I/OEmbedded Controller I/o:
– 2x UART, 2x I2c, 1x Spi, 1x Keyboard Scan, 1x Fan Controller, 10x Gpio
UDOO X86 II ADVANCED PLUS
https://shop.udoo.org/catalog/product/view/id/92/s/udoo-x86-ii-advanced-plus/category/3/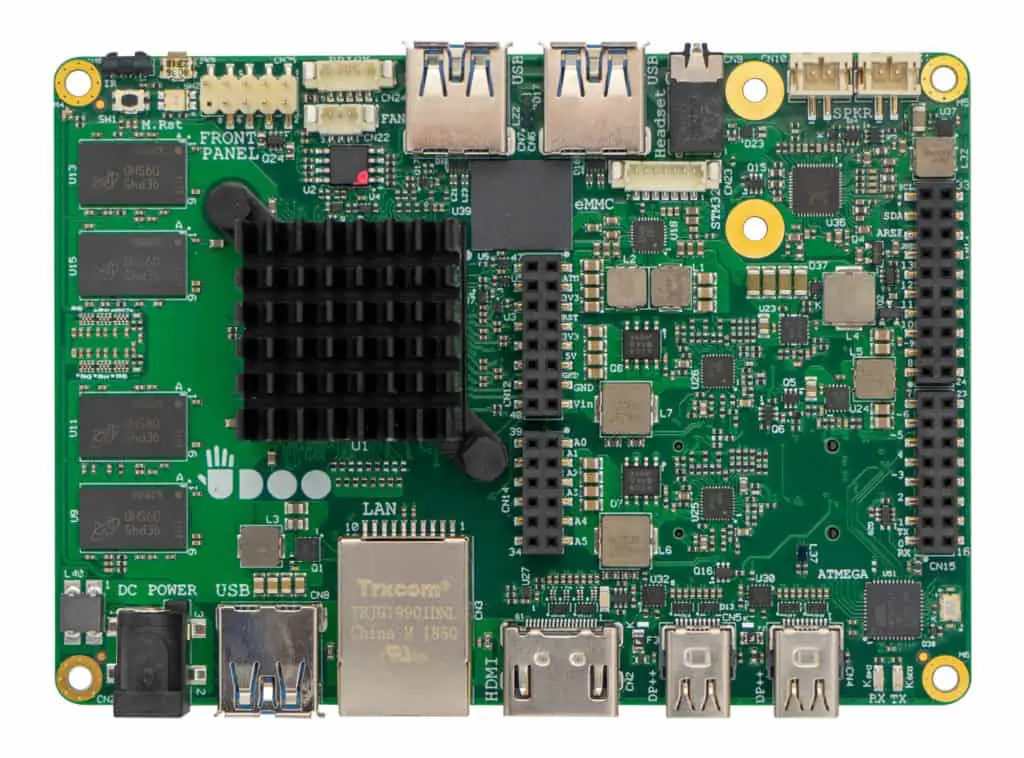 If the Udoo Bolt V8 is too pricey, but you still want a single board computer that leaves 99% of the others in the dust specs-wise, the X86 II Advanced Plus is for you
Hardware Specification For UDOO X86 II ADVANCED PLUS
Processor
CPU Intel Celeron N3160 2.24 GHz
Cores
4
Memory
4 GB DDR3L Dual Channel
Graphics
Intel HD Graphics 400
Up to 640 MHz
12 execution units
Video Interfaces
1x HDMI
2x miniDP++ connectors
Mass Storage
32GB eMMC storage
Standard SATA connector
M.2 Key B SSD slot
Micro SD card slot
Networking
Gigabit Ethernet connector
M.2 Key E slot for optional Wireless modules
USB
3 x USB 3.0 type-A sockets
Multimedia
HW Video decode H.265/HEVC,
H264, MPEG2, MVC, VC-1, WMV9, JPEG, VP8;
HW Video encode: H.264, MVC, JPEG
Audio
HD audio codec ALC 283CG
Microphone + Headphone combo connector
Preamplified speaker output
S/PDIF output
Other Interfaces
IR interface
LPC – 2 x I2C – GPIOs – Touch Screen
Management signals on the expansion connector
RTC Battery + Connector Included
Power Supply
DC IN Jack 12V 3A
Operating Systems
Windows 10, 8.1, 7
Any Linux Distribution for X86 platform
Android
Dimensions
120 mm x 85 mm – 4.72 inch x 3.35 inch
Microcontroller
ATmega32U4
Arduino Other Interfaces
1 UART
1 x i2C
1 x SPI
Arduino Pinout
Arduino Leonardo-compatible and compatible with most Arduino shields 5V compliant
Digital I/O Pins
Up to 23 x digital I/O (7 PWM)
Analog I/O Pins
12 x Analog input
Note
The communication between the Braswell SoC and the ATmega32U4 Microcontroller goes through an internal USB interface just like Arduino Leonardo boards connect to external PCs.
RockPi 4
https://www.pine64.org/devices/single-board-computers/rock64/
The RockPi 4 is another low-cost Raspberry Pi clone with a similar form-factor and feature set. Its main advantage seems to be its lower cost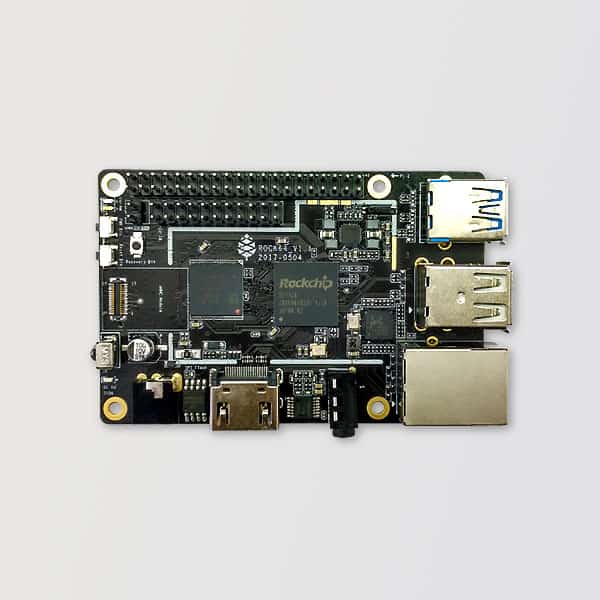 Hardware Specification For RockPi 4
CPU
Rockchip RK3328 Quad-Core SOC with Mali 450MP2
Memory
LPDDR3 RAM (up to 4GB)
Networking
Gigabit Ethernet
Storage Expansion
Micro SD Slot
Storage Interface
eMMC Module Slot
Video Connectivity
4K Digital Video Out
USB Connectivity
2x USB 2.0 Host,1x USB 3.0 Host
Other Features
PI-2 Bus, PI-P5+ BUS, IR R/X Port, Real-Time Clock Port (RTC)
Power Over Ethernet (POE) (when using optional HAT module)
SPI Flash 128Mbit
Ports
A/V Jack, Power, Reset and Recovery buttons, 3.5mm Barrel Power (5V 3A) Port
Le Potato
https://libre.computer/products/boards/aml-s905x-cc/
The humorously named 'Le Potato' is a compact single-board computer with Linux and Android support and a Raspberry pi 2/3 compatible layout.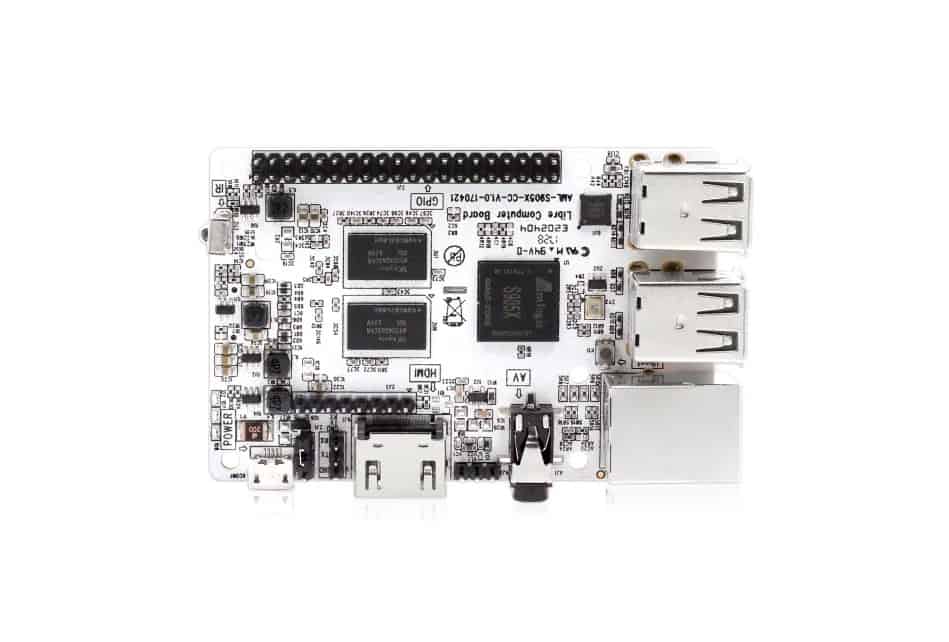 Hardware Specification For Le Potato
Series
AML-S905X-CC-2GB
Hardware Platform
Linux
Operating System
Linux, Android
Item Weight
1.94 ounces
Package Dimensions
4.8 x 3.03 x 1.06 inches
Processor Brand
ARM
Processor Core Count
4
Computer Memory Type
DDR3 SDRAM
Flash Memory Size
2 GB
Hard Drive Interface
USB 2.0
Power Source
DC
Voltage
5 Volts
LattePanda
https://www.lattepanda.com/products/3.html
The LattePanda can run a full copy of Windows 10 in a super-compact form factor. Blasphemy on a Linux-centric site, but sometimes when you need to use Windows, you need to use Windows.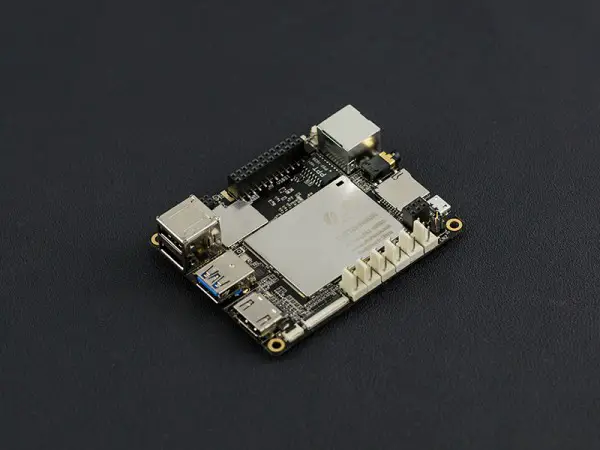 Hardware Specification for LattePanda 4G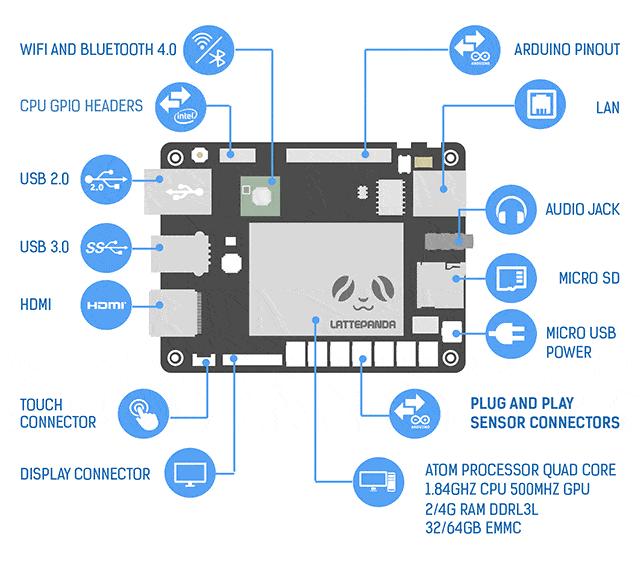 Conclusion
There are various variants and sub-variants of these boards from the same manufacturers with slightly varying specs – you'll need to consider the cost of the alternatives, and of course, how much power you'll need. A home media server will need some processing grunt, but if you're just flashing LEDs or monitoring the weather, a lower power board might be in order (and cheaper!).
If you're working on a hardware project, you may want to consider using an Arduino as the brains instead – check out our Arduino / Raspberry Pi comparison for more info!