Kali Linux is a Linux distribution built from the ground up for Penetration Testing and Security Auditing. This step-by-step tutorial explains how to install it quickly and easily.
What does that mean? It means Kali Linux is for trying to break into (your own) networks and computers to check for vulnerabilities.
It contains hundreds of tools for testing for security vulnerabilities and tools for computer forensics, reverse engineering, and security research.
Kali Linux can be run from a CD or USB stick or installed like any other Linux distribution – here's how.
Downloading the Kali Linux Install Image
Download the appropriate image for your system (Kali Linux 64-Bit (Installer) is compatible with most modern PCs) from
https://www.kali.org/downloads/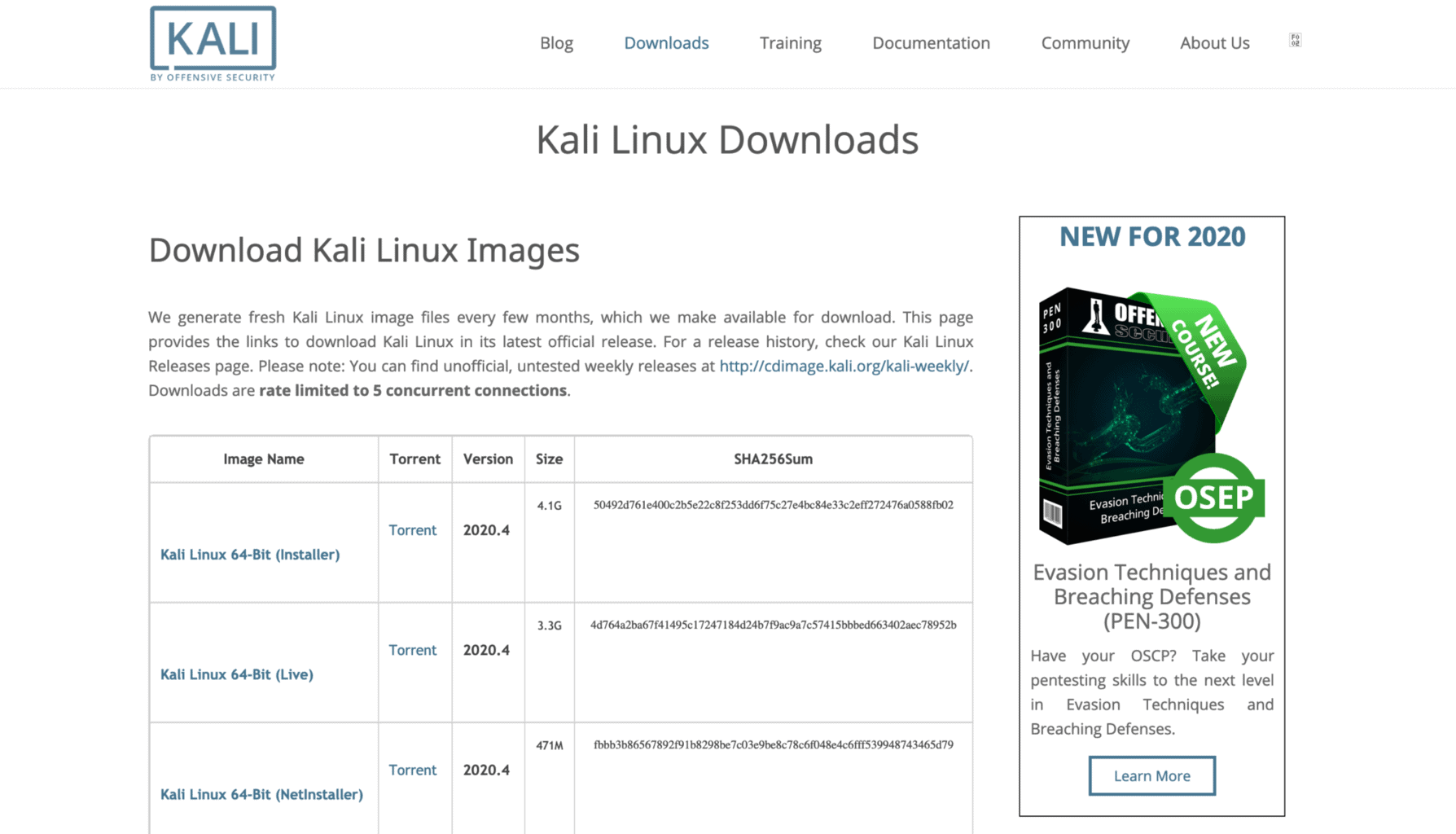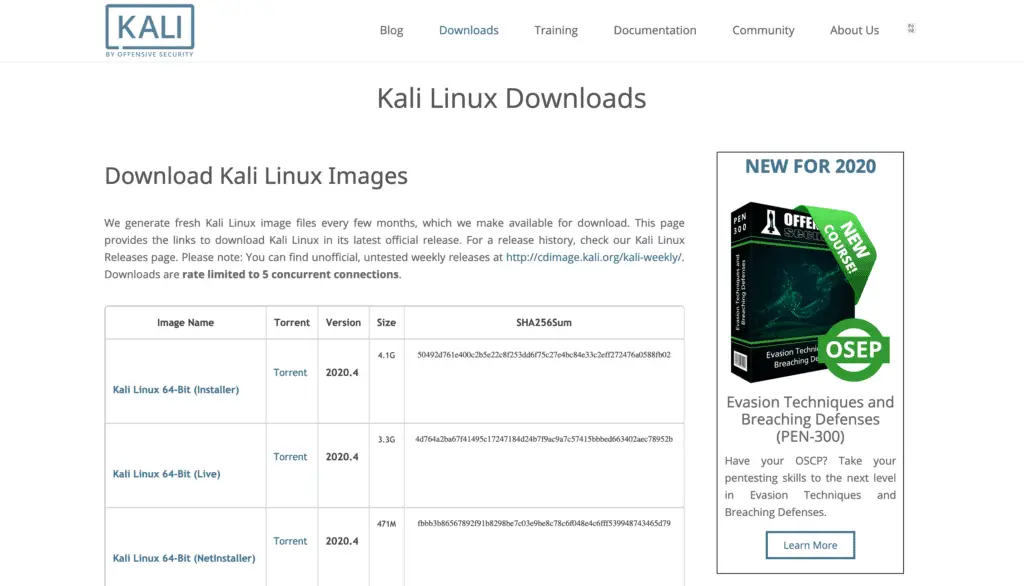 Writing the Install Image to Disk or USB Stick
Windows 10 DVD Installation
If you've got a DVD burner on your computer, insert a blank disc, and right-click on the downloaded Kali Linux ISO image, and select 'Burn disk image' – easy!
Ubuntu DVD Installation
If you're on Ubuntu and are burning to DVD, right-click on the downloaded ISO Image and select 'Write to Disk' – also easy!
Windows 10 USB Stick Installation with Rufus
If you're using a USB stick (which is at least 4GB) to install Kali Linux, download Rufus – a neat tool for writing ISO images to bootable USB sticks:
Open Rufus up and make the following selections:
Set Device to the USB stick you wish to write the ISO image to

Watch out! It'll delete everything on the USB stick, so make sure you're sure and that you've selected the right device

Set Disk or ISO Image to the Kali Linux ISO file
Leave everything else as is
Now click START and wait around a bit. Your bootable Kali Linux Install USB is now ready!
Ubuntu USB Stick Installation with Startup Disk Creator
Ubuntu has a built-in tool for writing a bootable Linux ISO image to a USB stick – the Startup Disk Creator. To set up your USB stick:
Insert your USB stick
Search Ubuntu's Application launcher for 'Startup Disk Creator' and launch the application
Select the Kali Linux ISO which was downloaded in the previous step as the source disk
Select your USB stick as the disk to use
Confirm your USB device – Make sure you're certain of your selected USB device, as all data on it will be wiped!
Wait a bit – and your bootable USB stick is ready!
Installing Kali Linux on your PC
Insert the Kali Linux disc or USB stick from the previous step into the computer you wish to install Kali Linux on to.
WARNING: Depending on your selections during the installation process, the entire contents of the computer you are installing Ubuntu on may be wiped – so make sure you're paying attention to what you're doing (and always have backups)
Now, power up or reboot the computer. You will need to make sure it boots from your installation media.
This may happen automatically. If it does not, reboot again and watch for a prompt to select which device to boot from.
It usually looks something like this:
Press DEL to interrupt startup and select boot device.

If you don't see one, you may have to consult the user manual for your computer to find out which key to press to interrupt boot and select the boot device (it's usually DELETE, F2, or F12, depending on your manufacturer).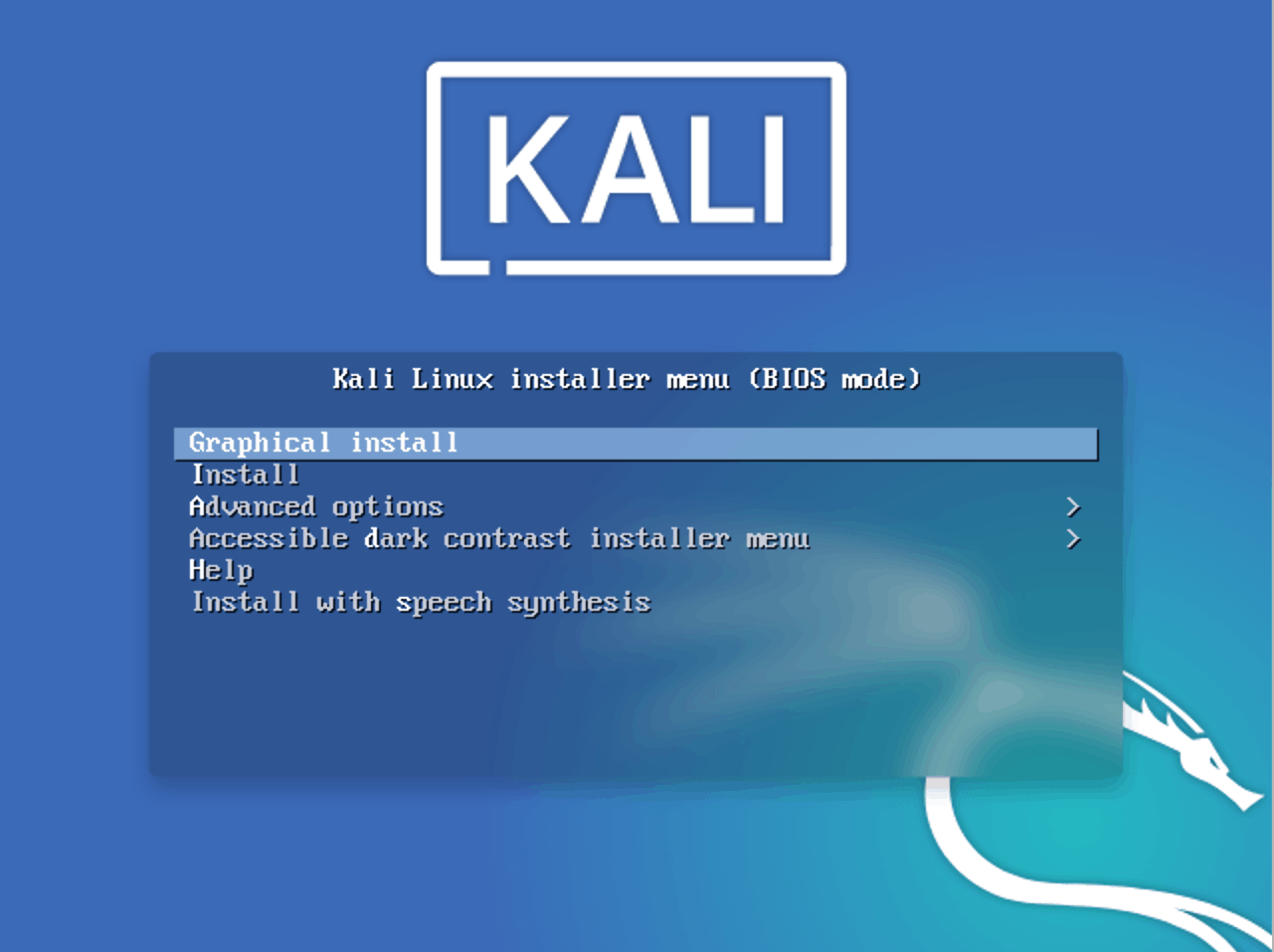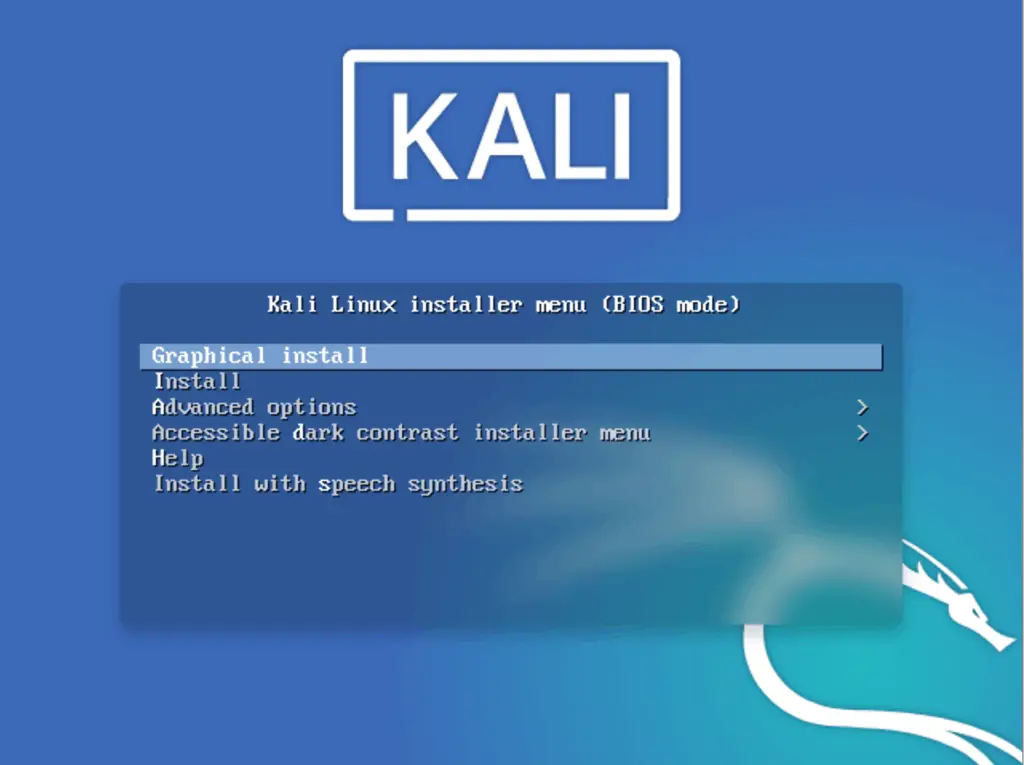 Once you've successfully booted the installation media, you'll see the above screen. Select Graphical Install.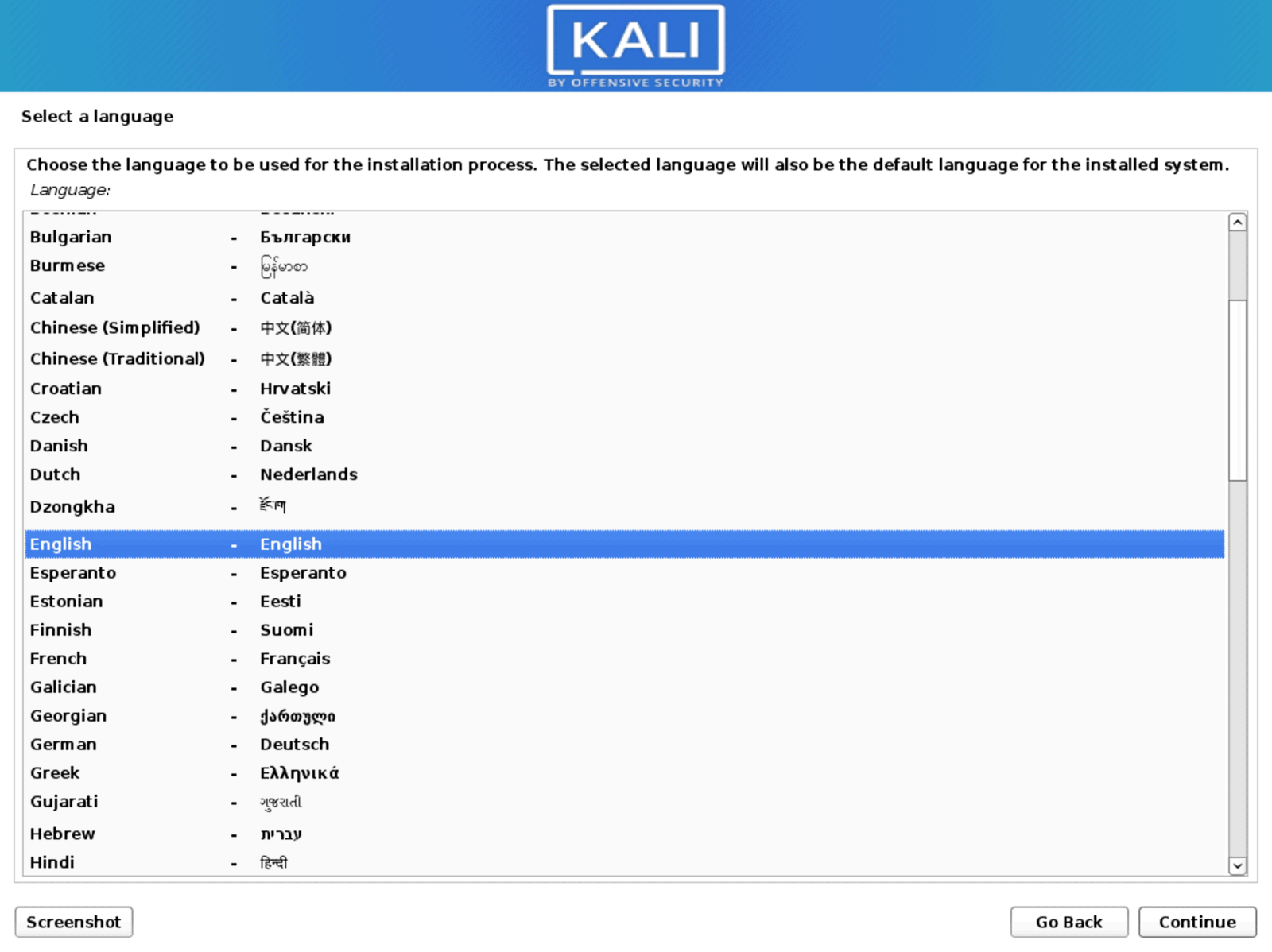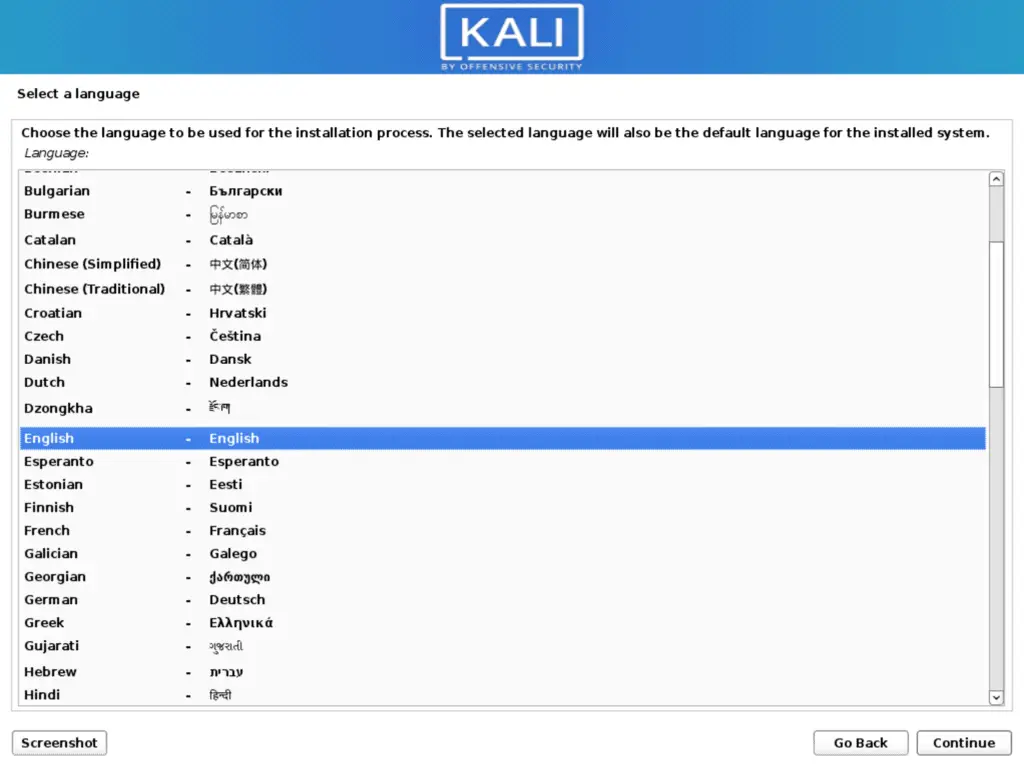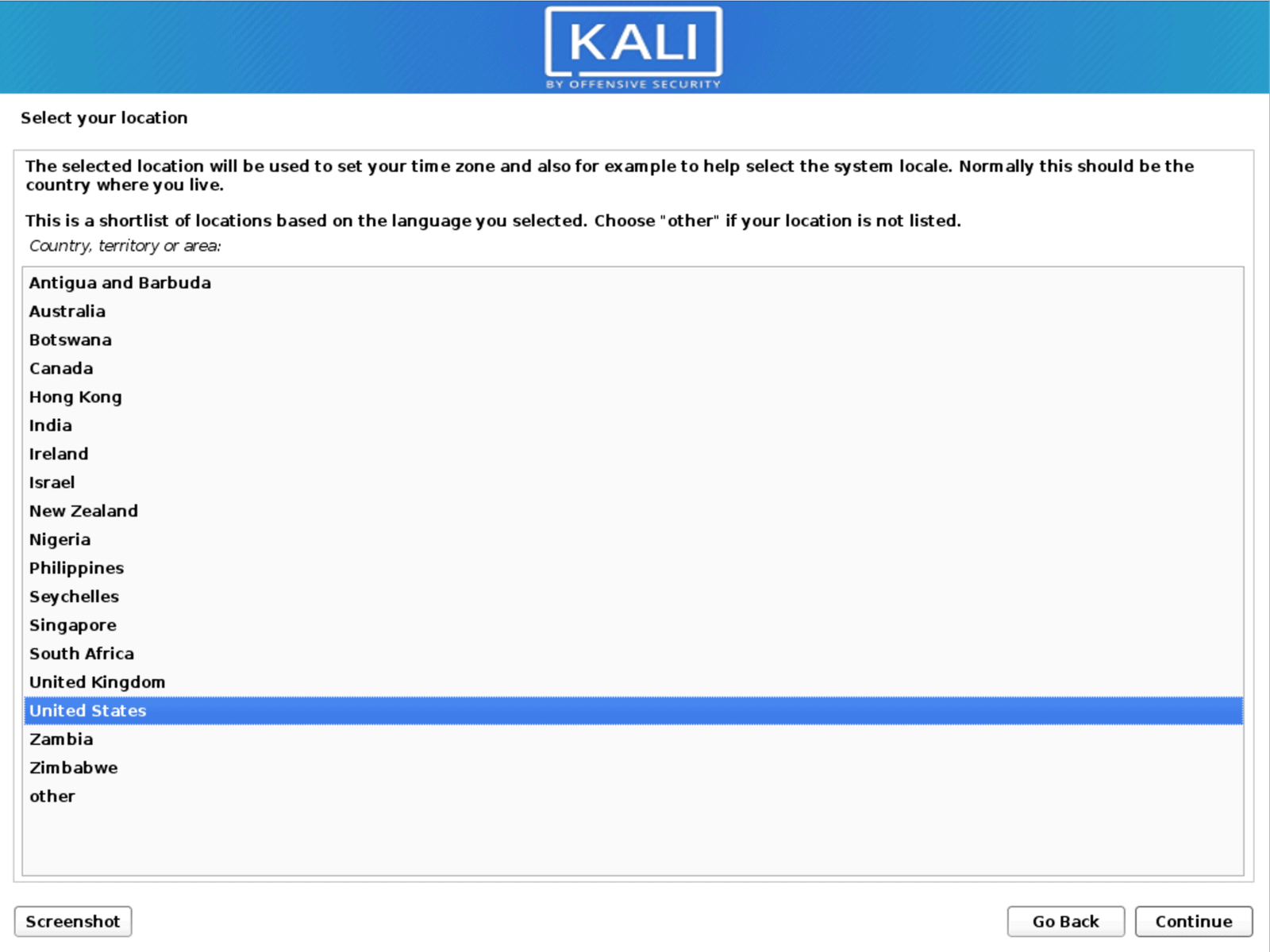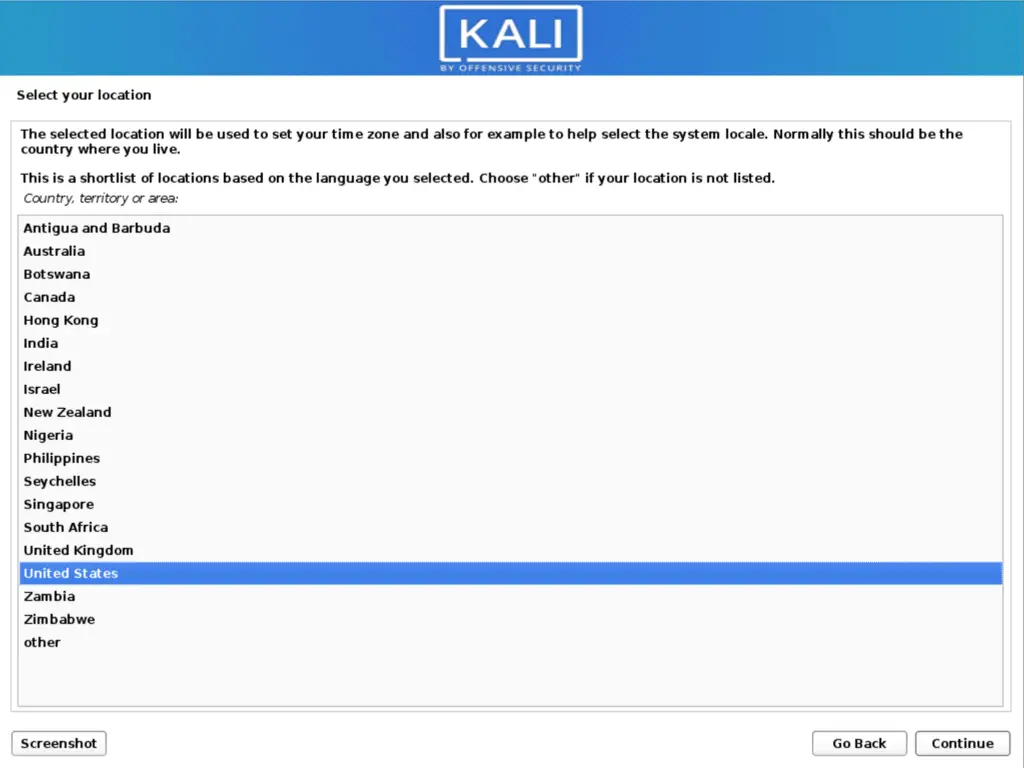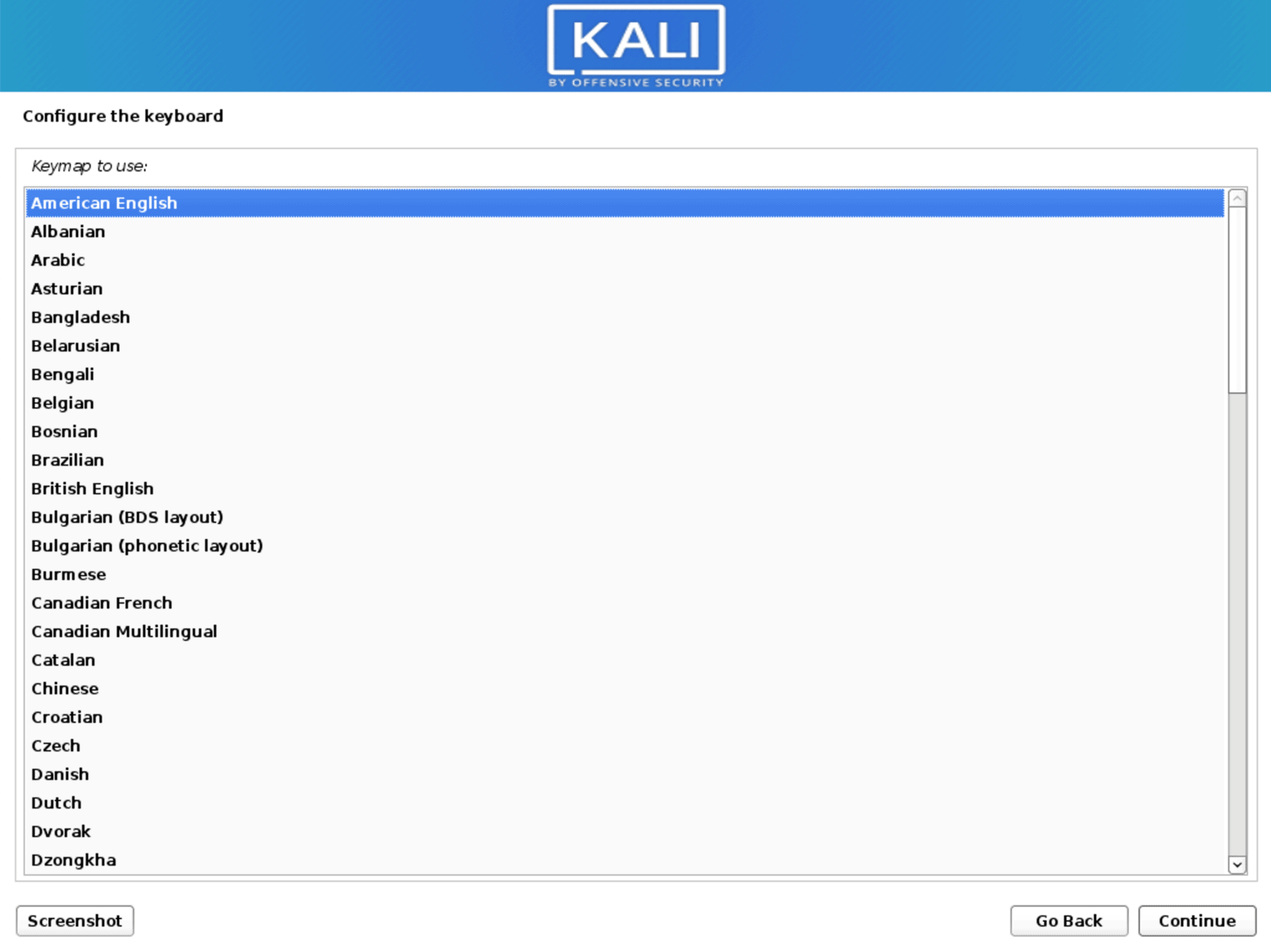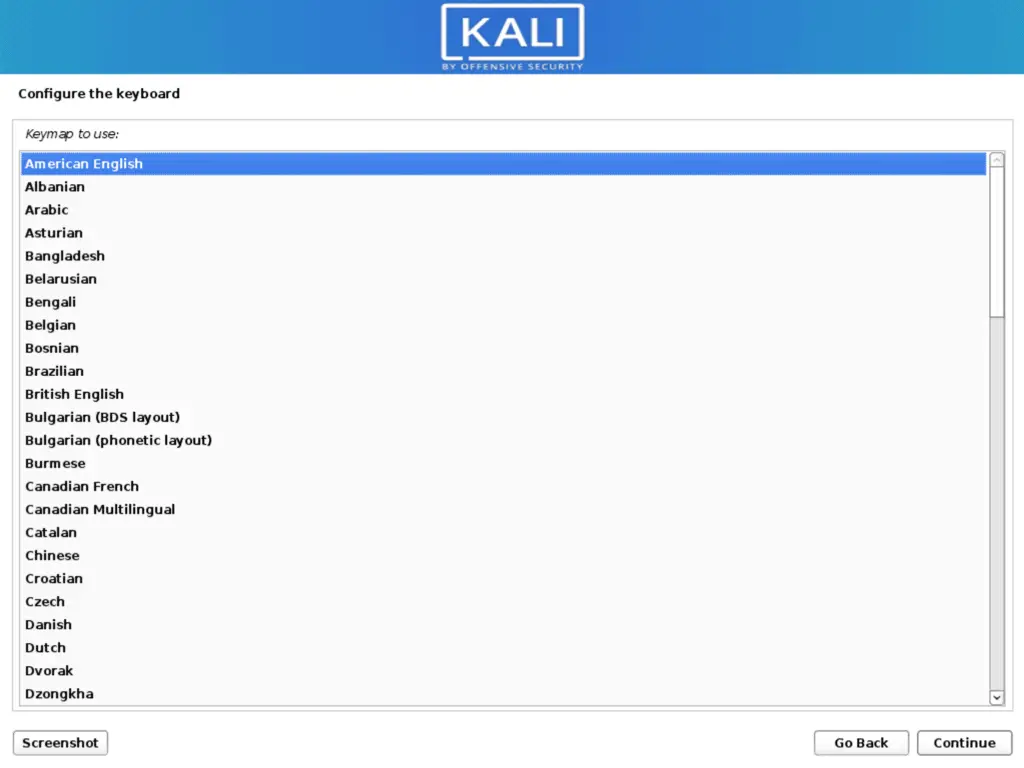 Select your Language, Location, and Keyboard Layout. Once these choices are made, the setup process will run some checks and then proceed.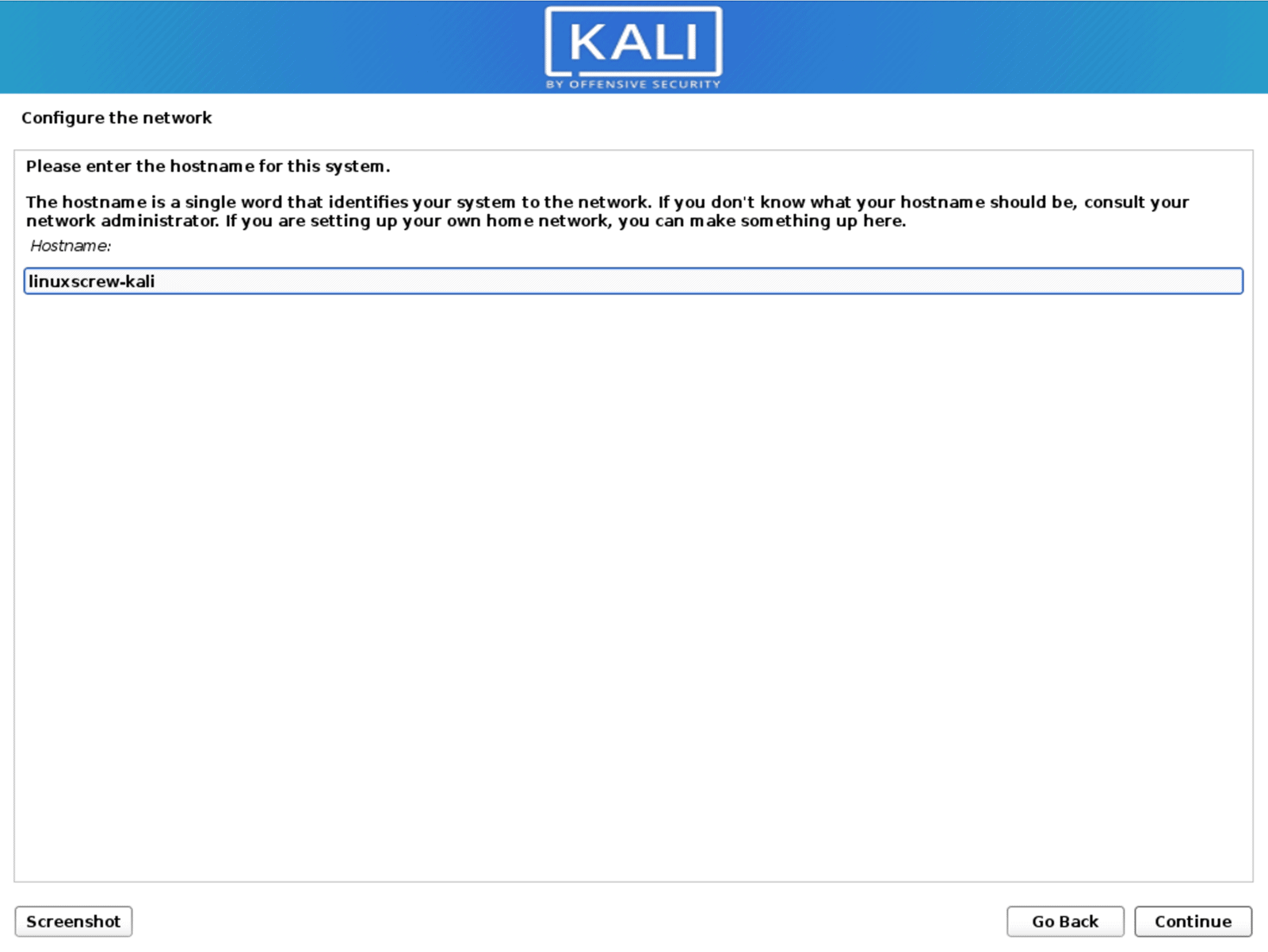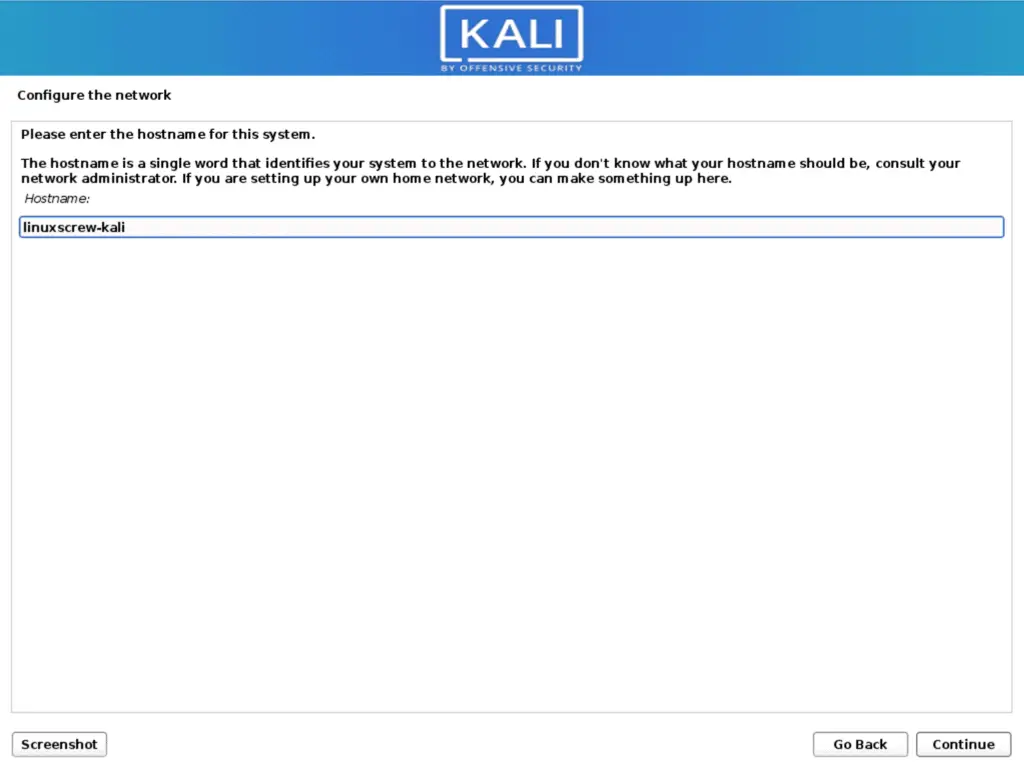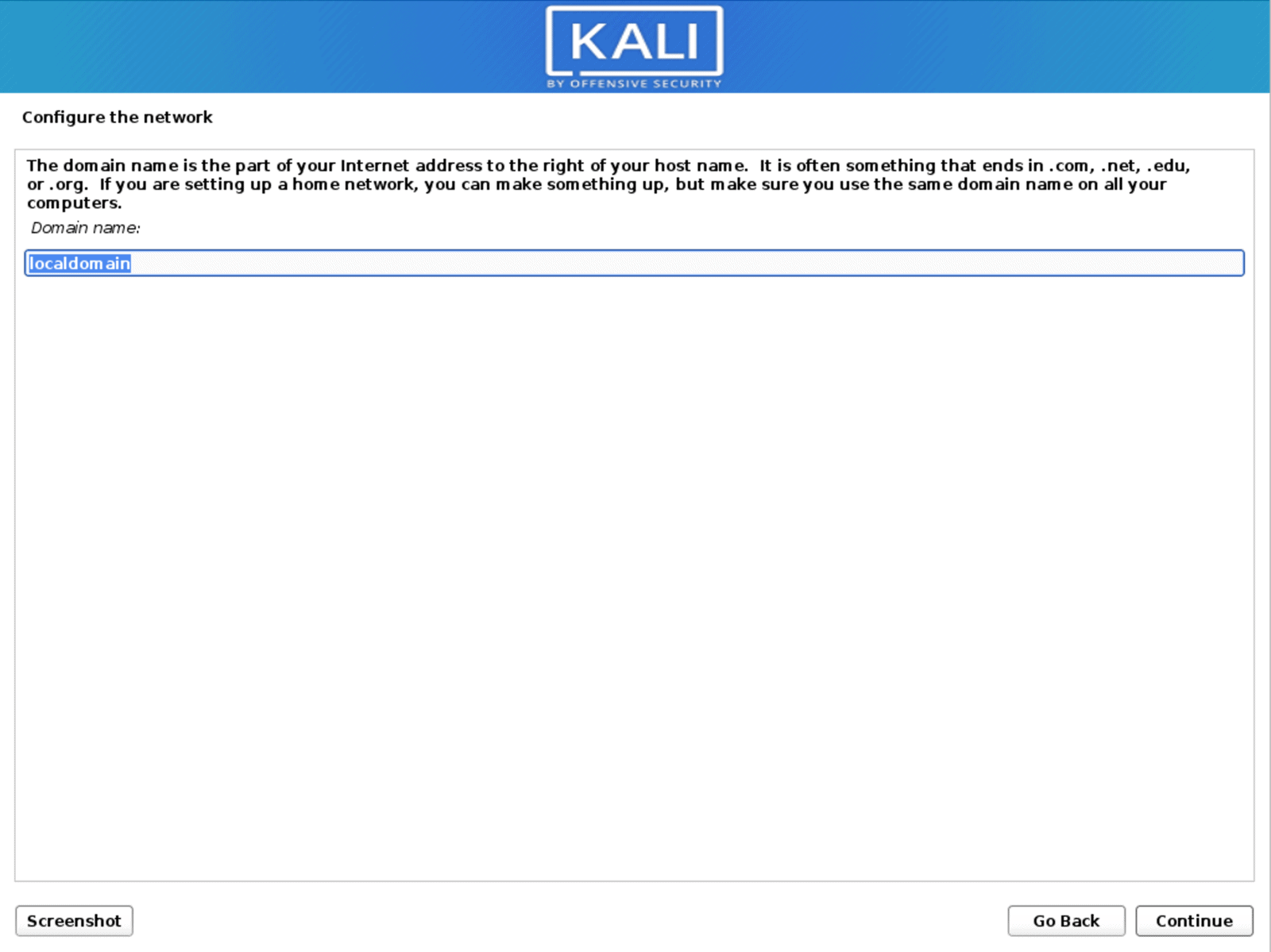 Name your computer something sensible. If you're going to be using Kali Linux for it's intended purpose, an ambiguous name is probably for the best.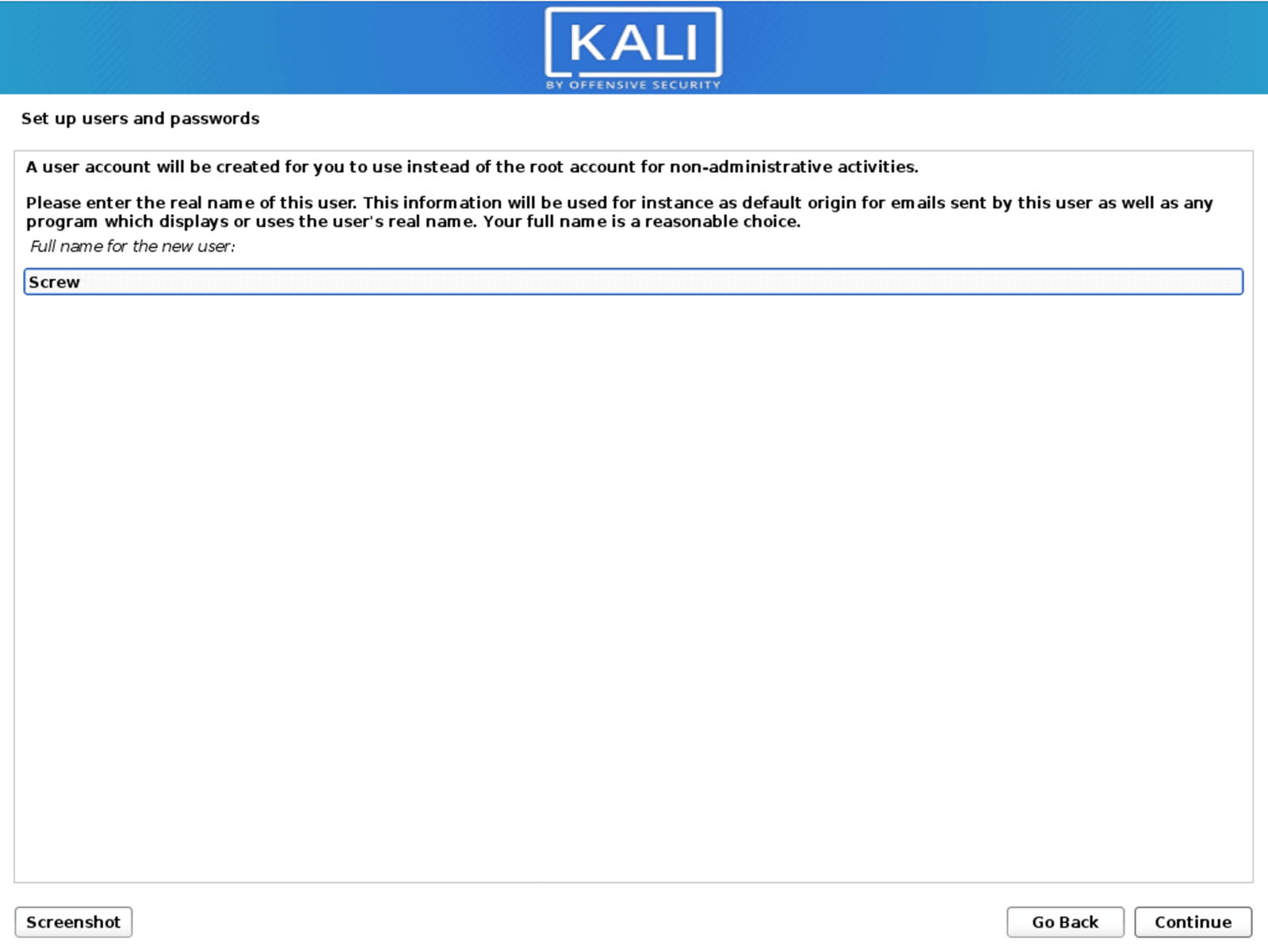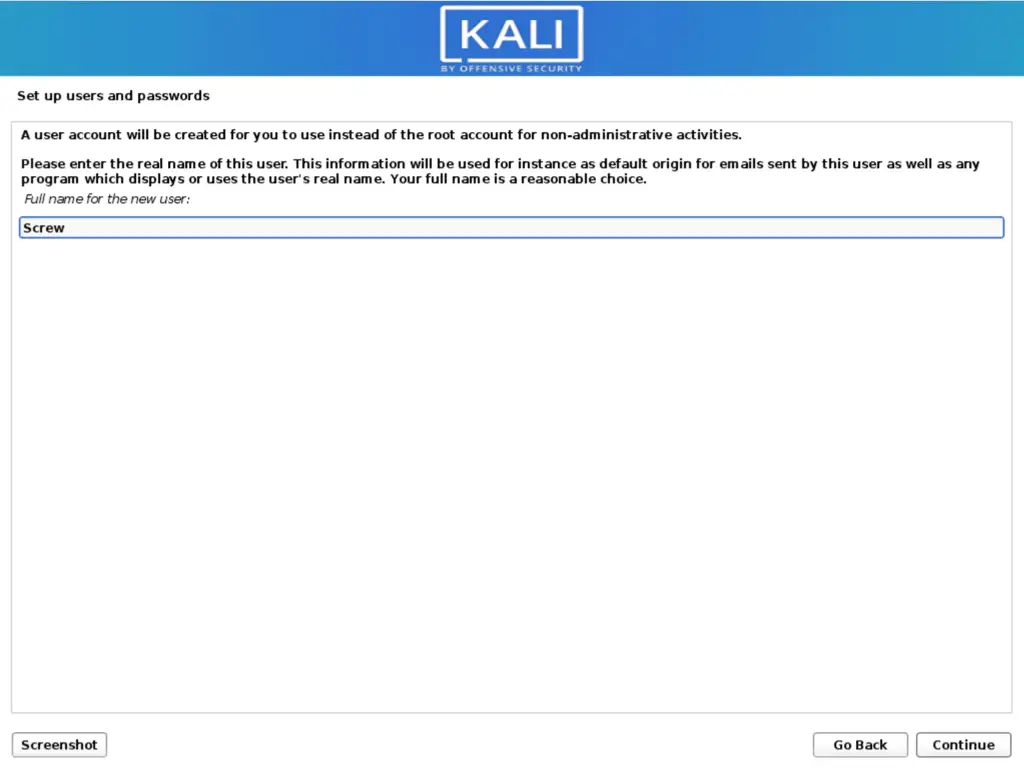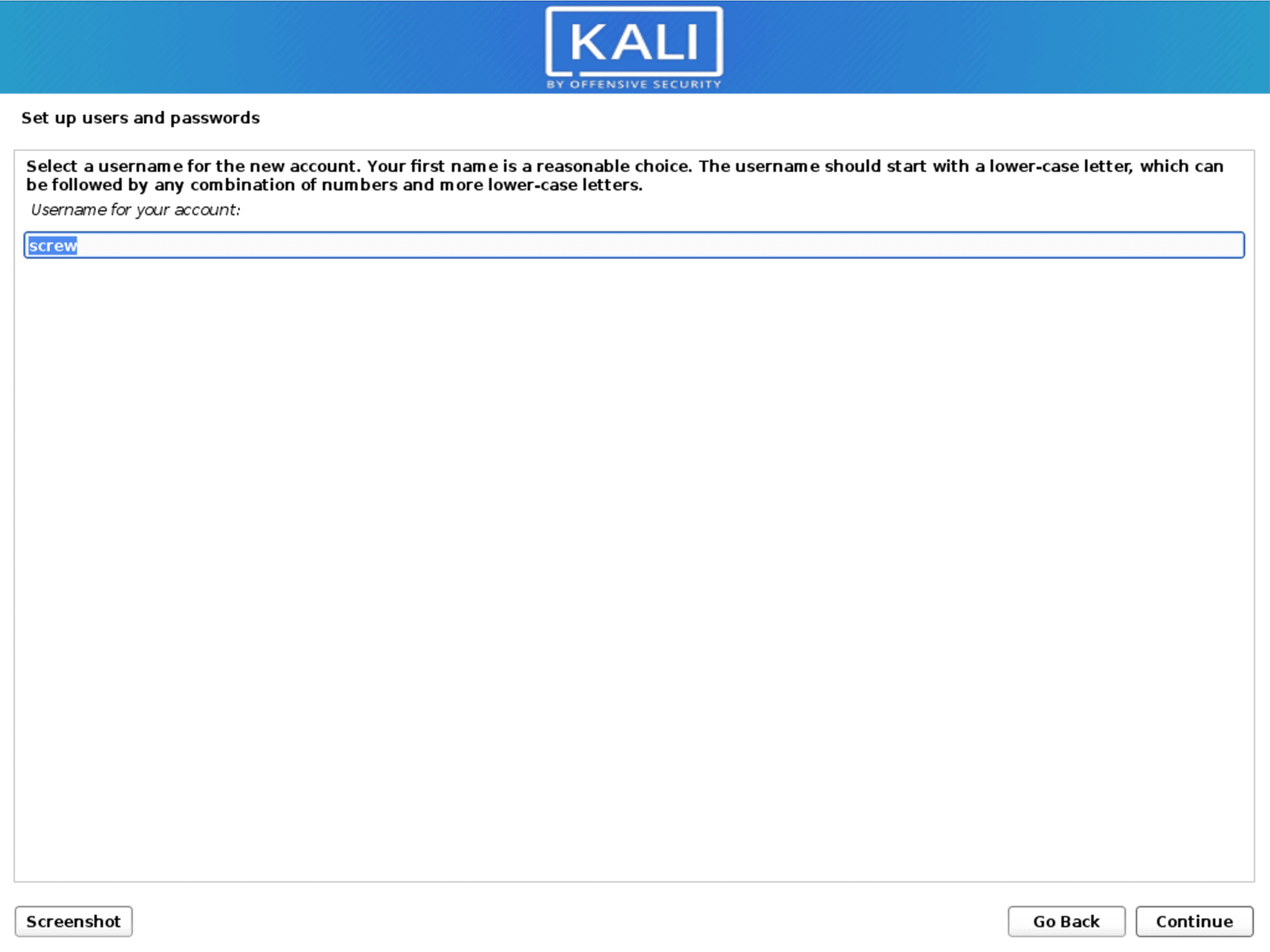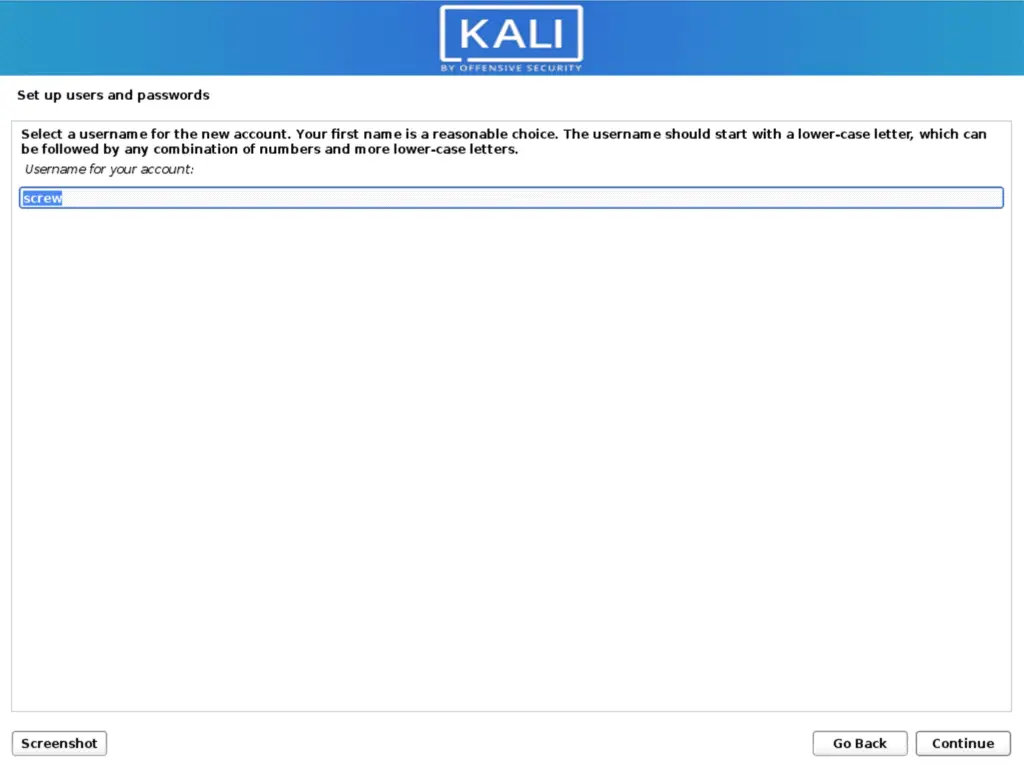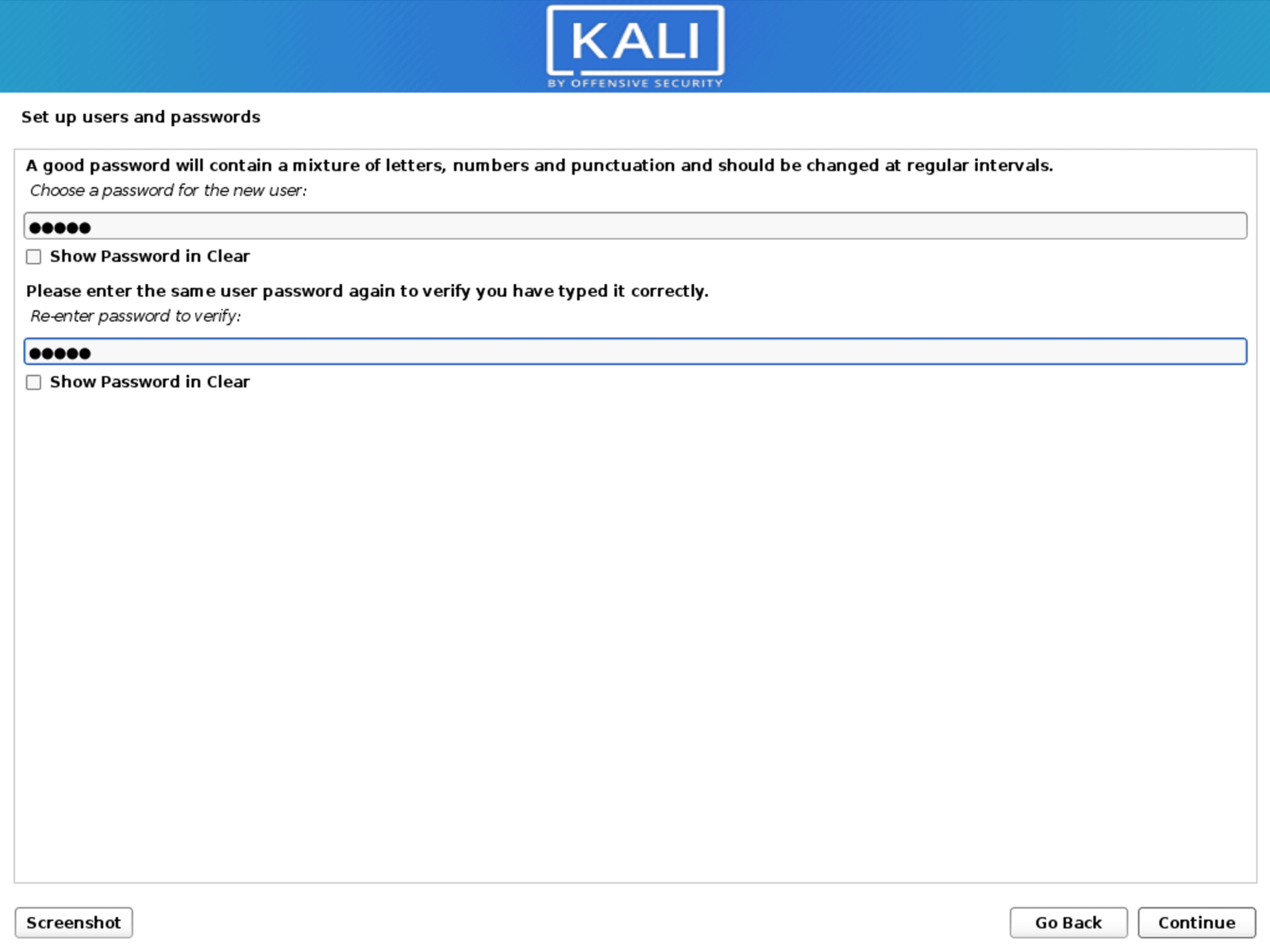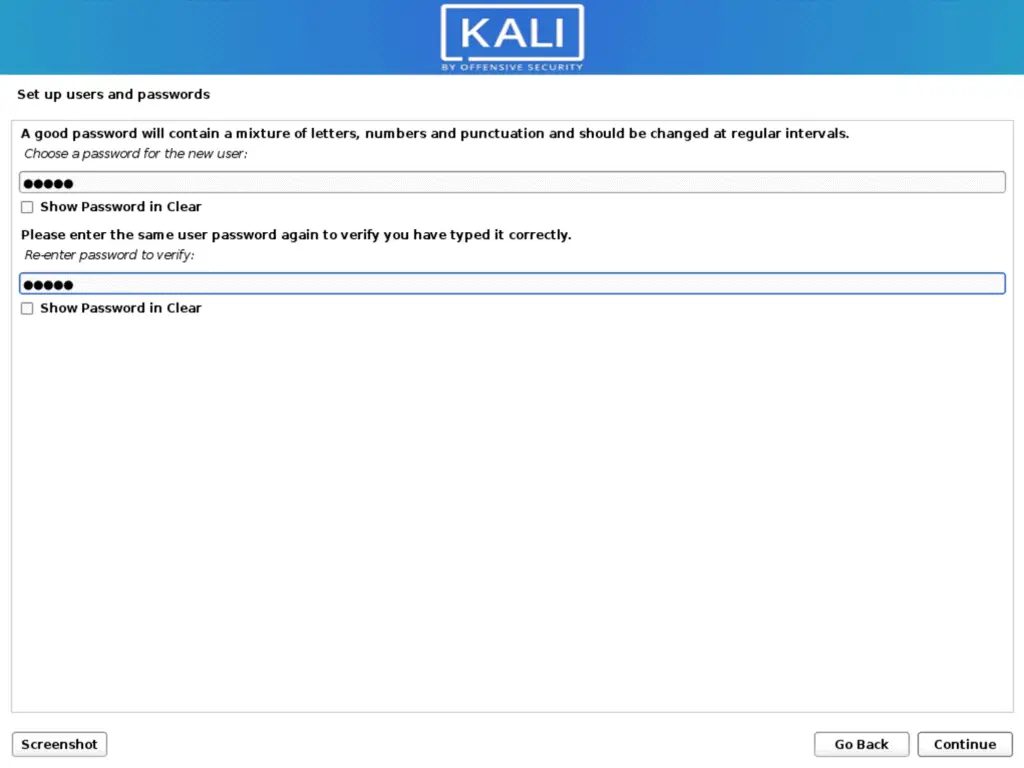 Set your username and password to something secure!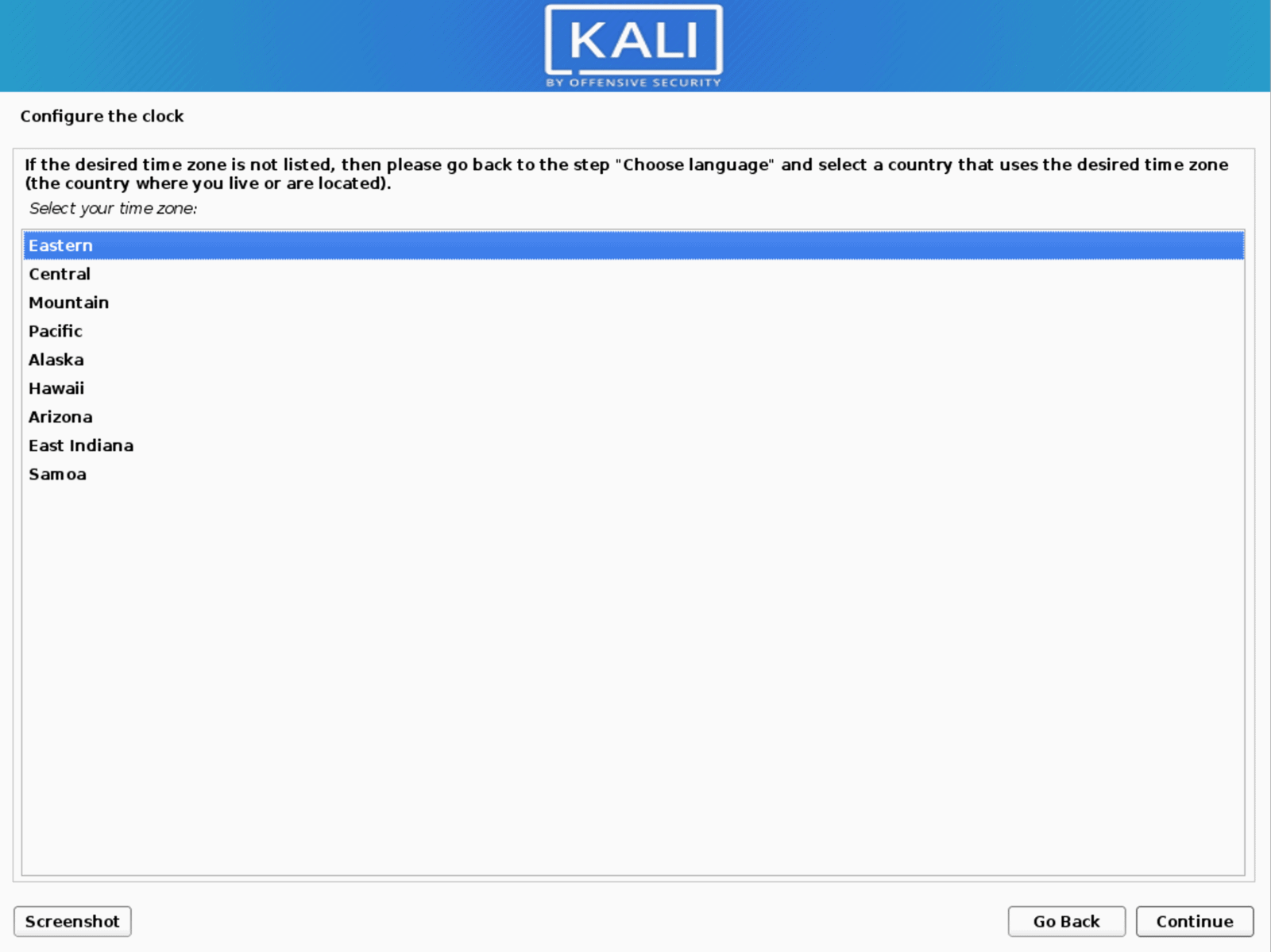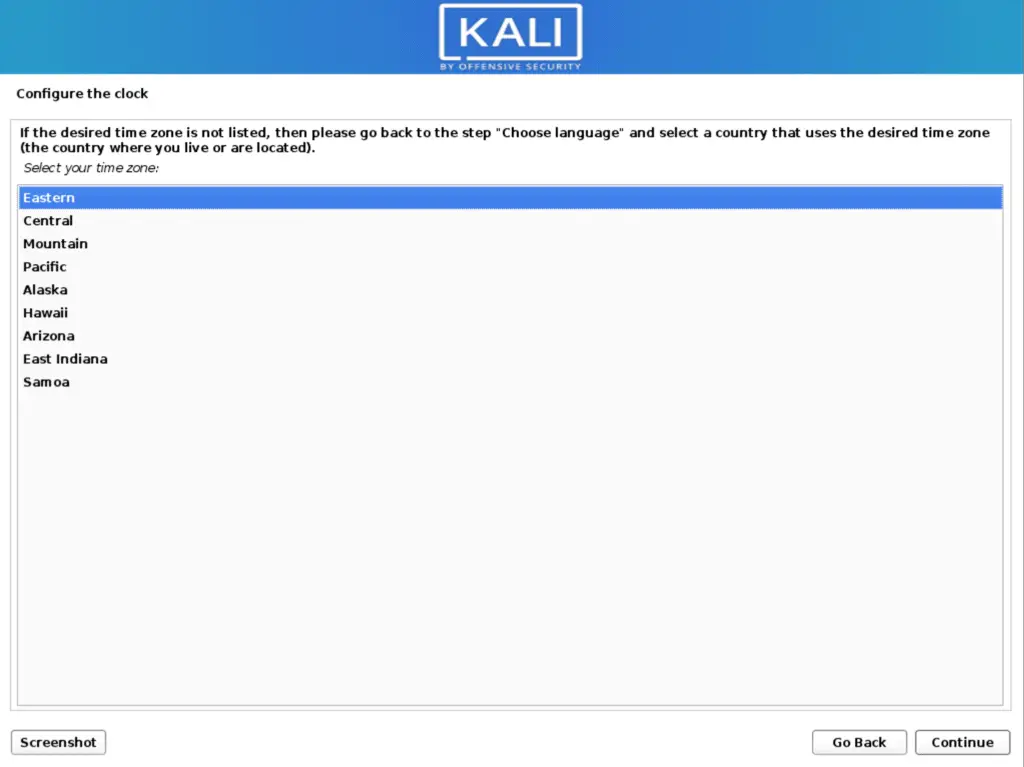 Select your timezone and continue to set up your hard disk.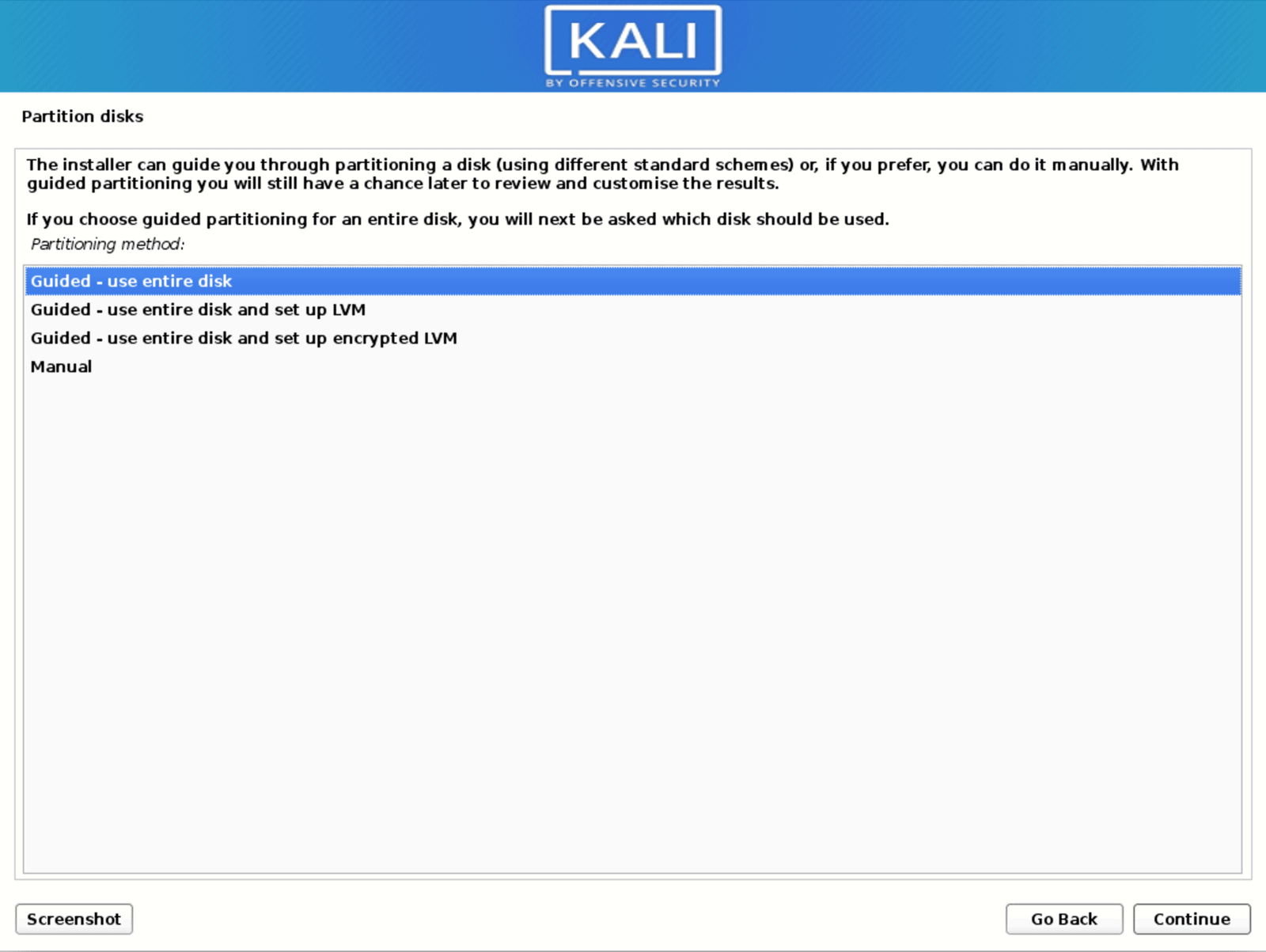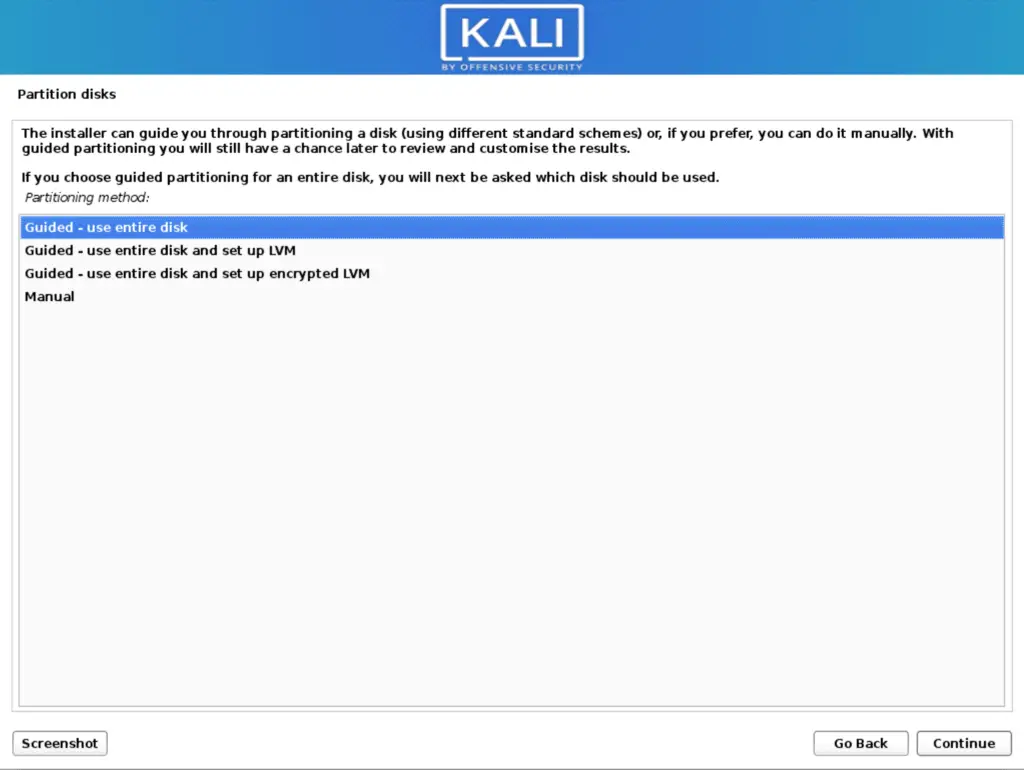 Guided – use entire disk is the most straight-forward option – but be aware that it will overwrite the current contents of the disk you are installing to – make sure you've backed up!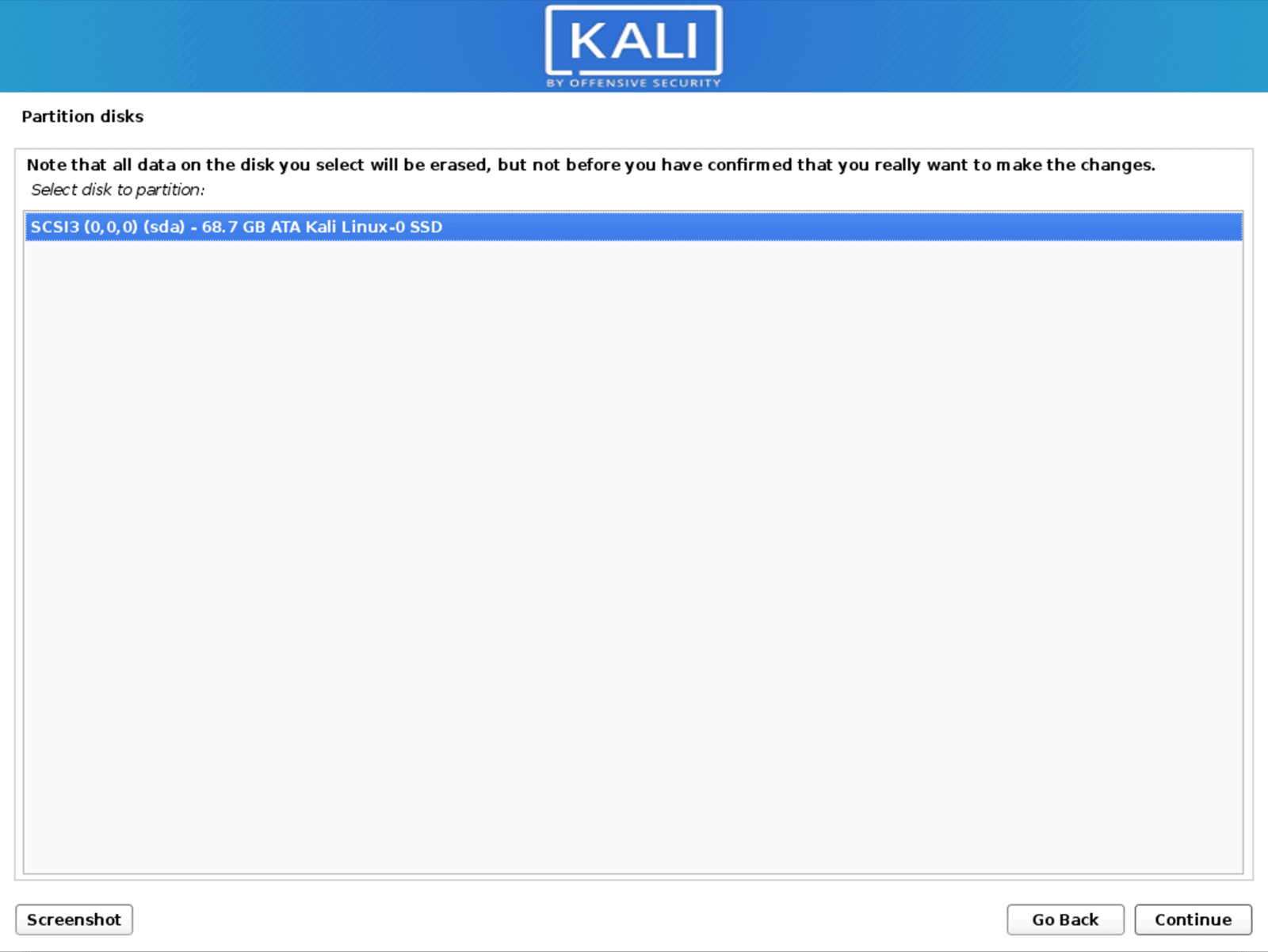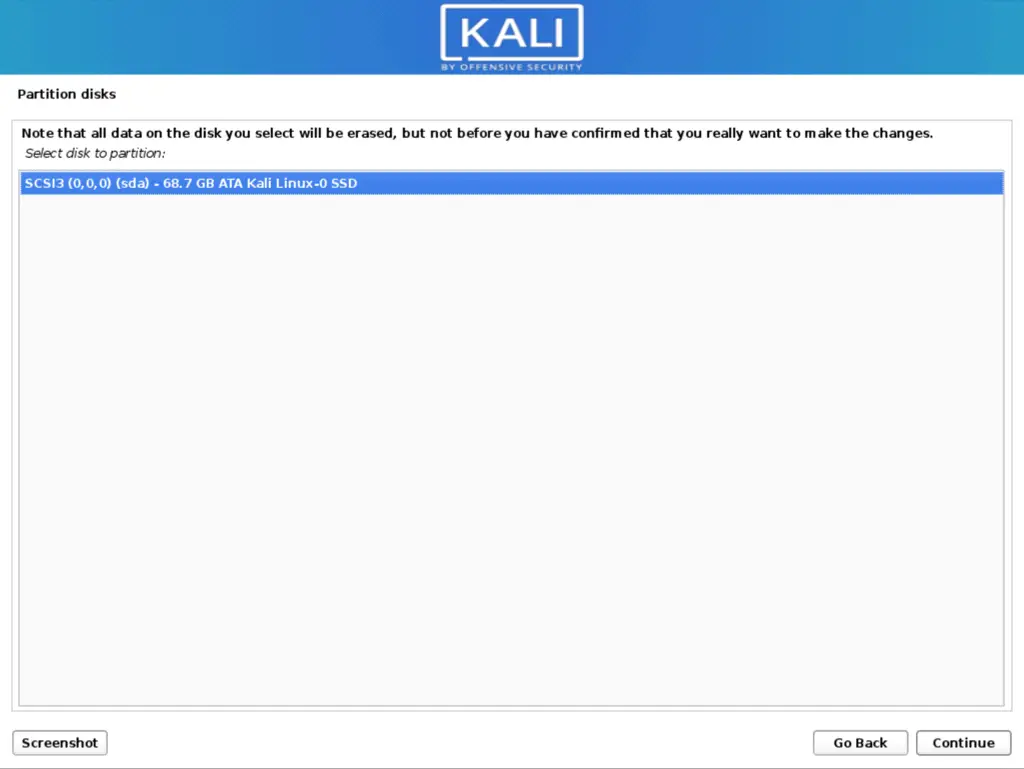 Select the hard disk you wish to install Kali Linux to.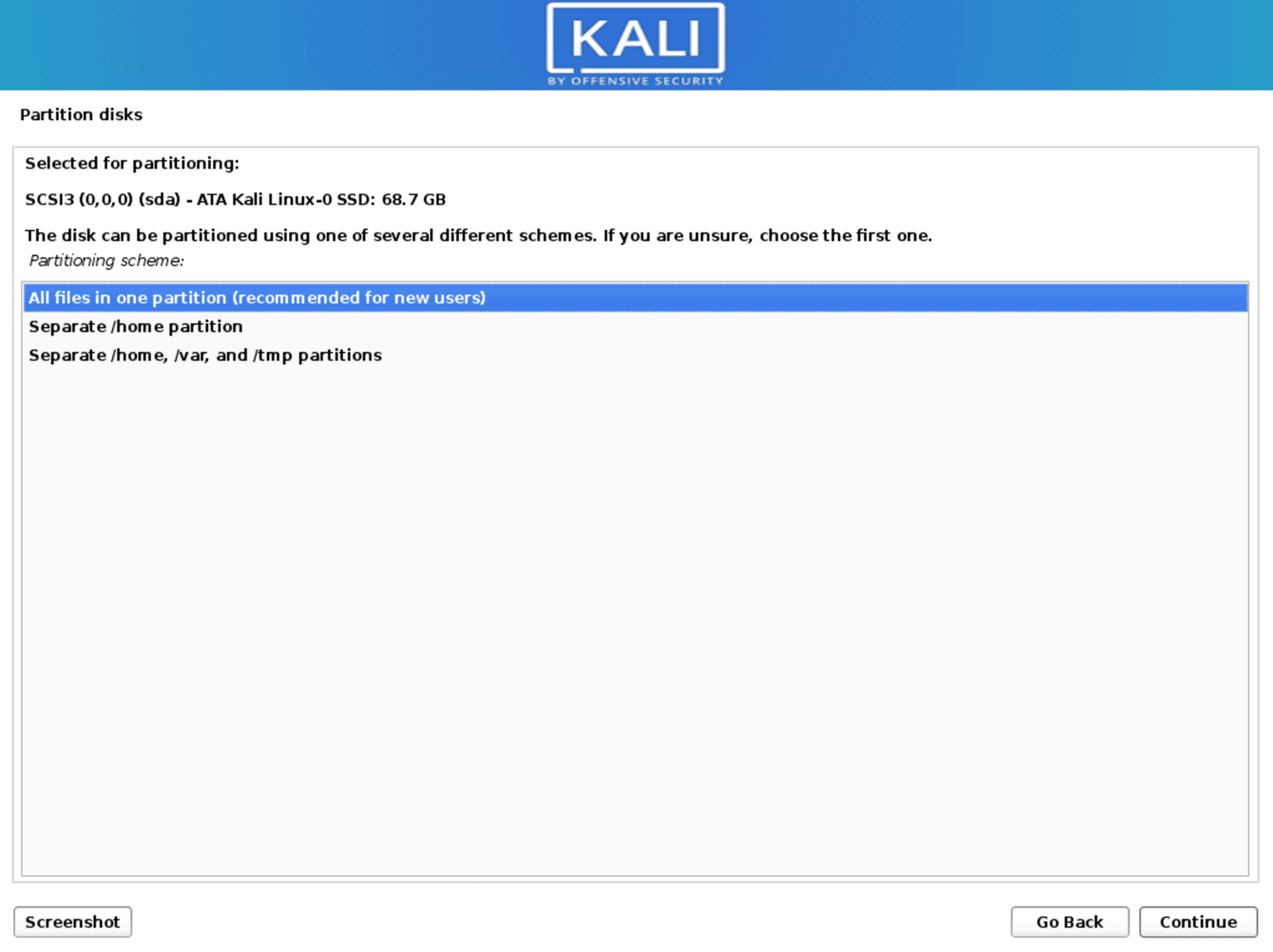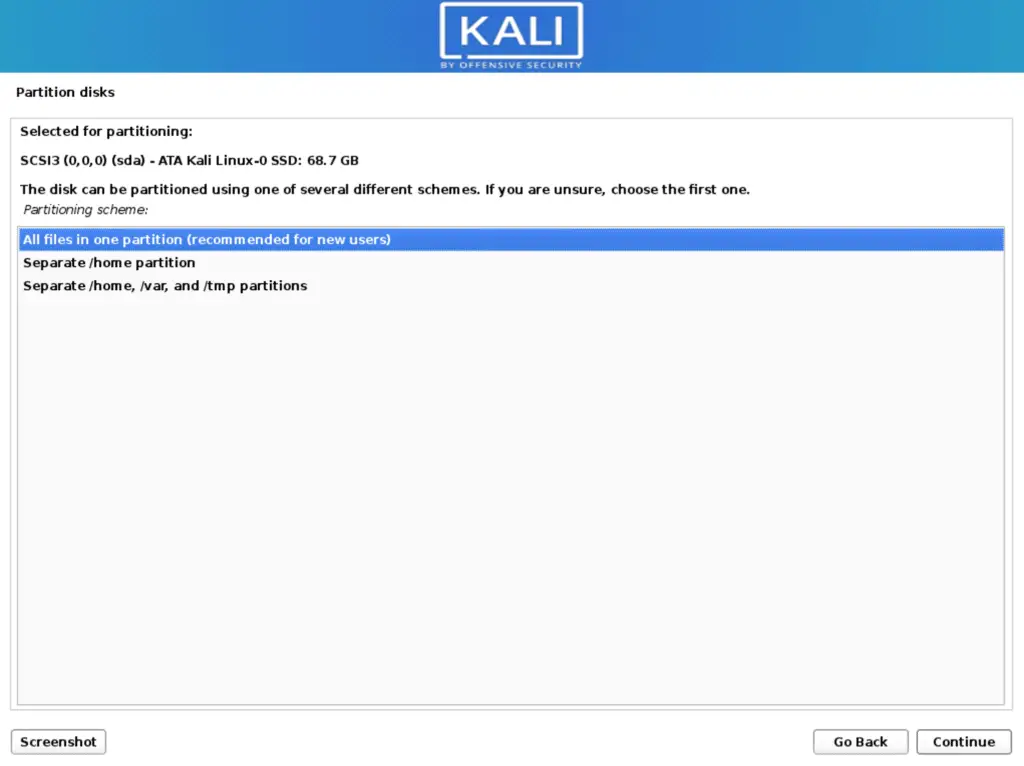 All files in one partition is sufficient for normal usage (and new users, as it states).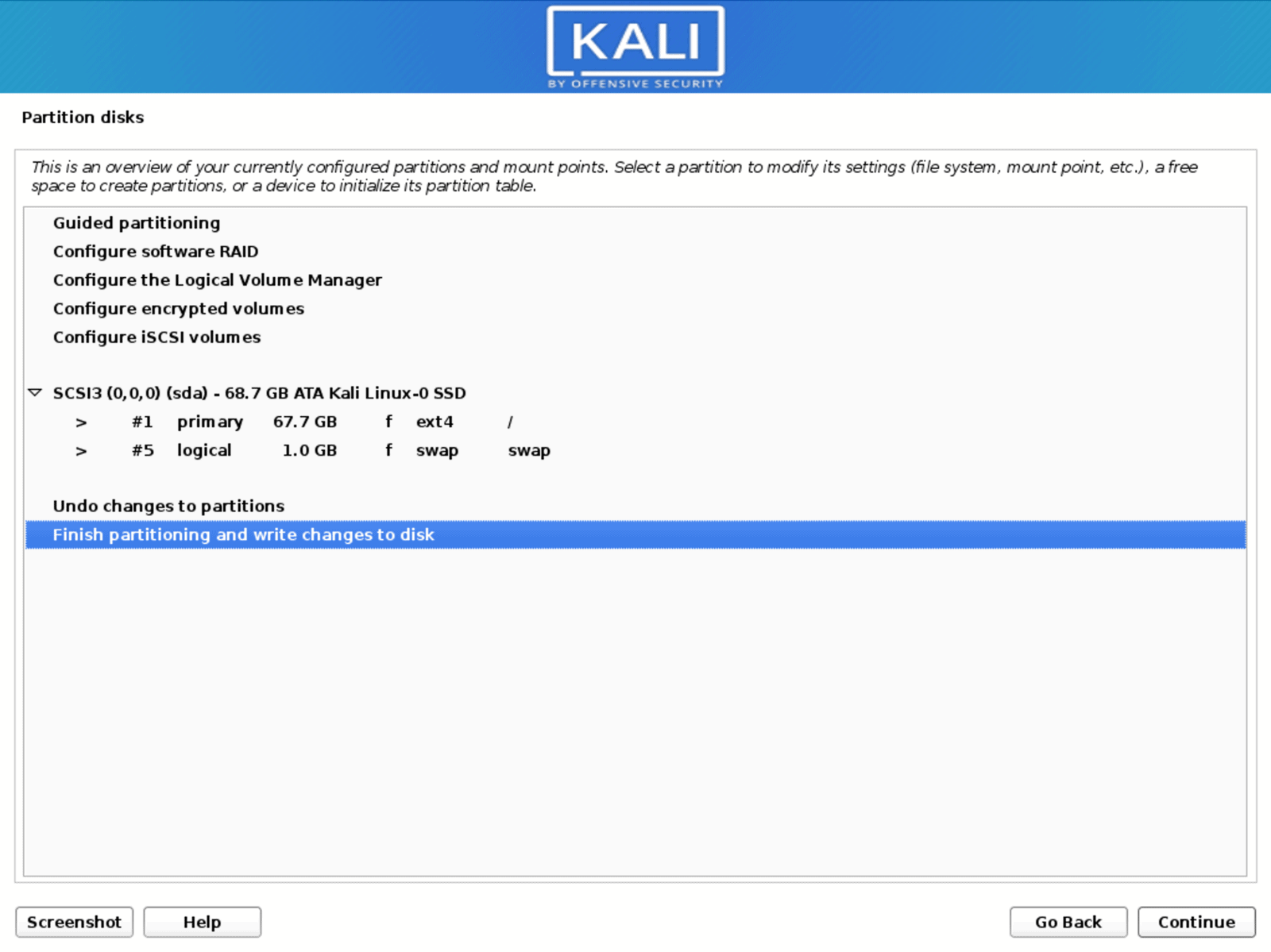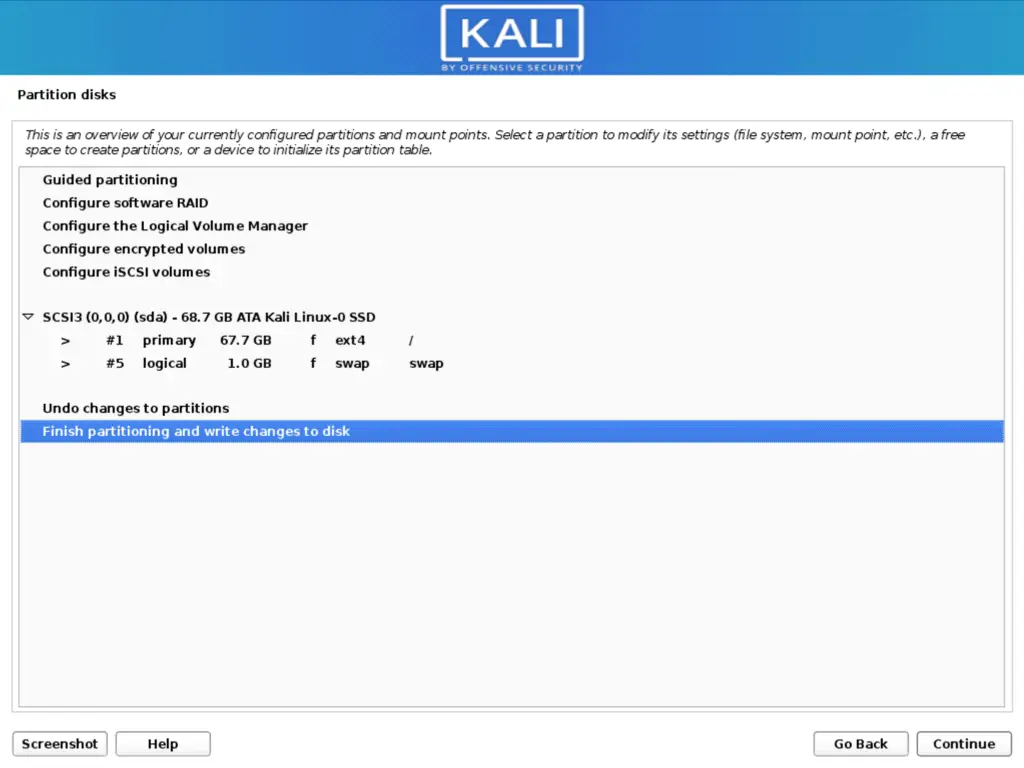 Finally, select Finish partitioning and write changes to disk and click Continue to overwrite your disk and install Kali Linux.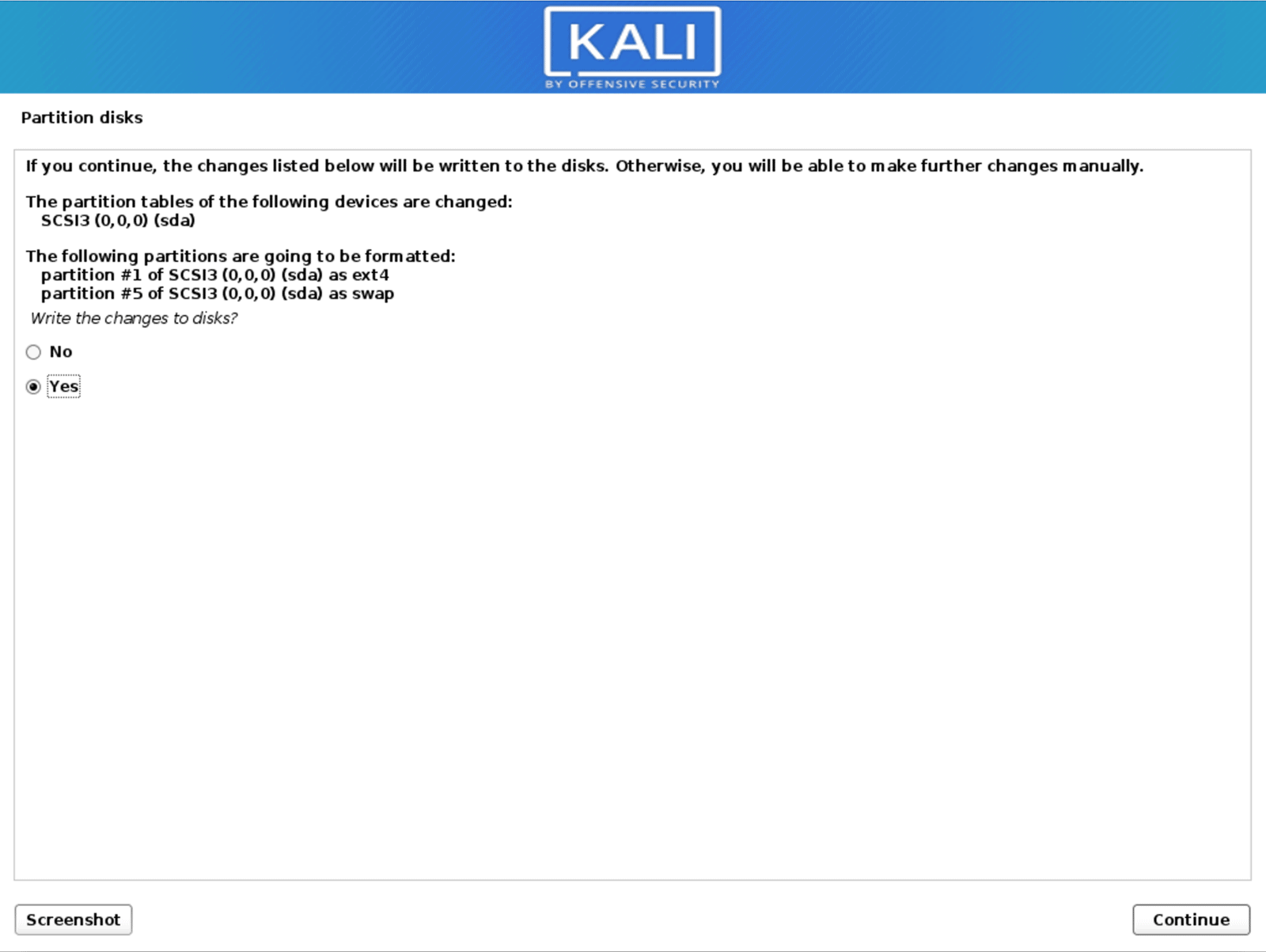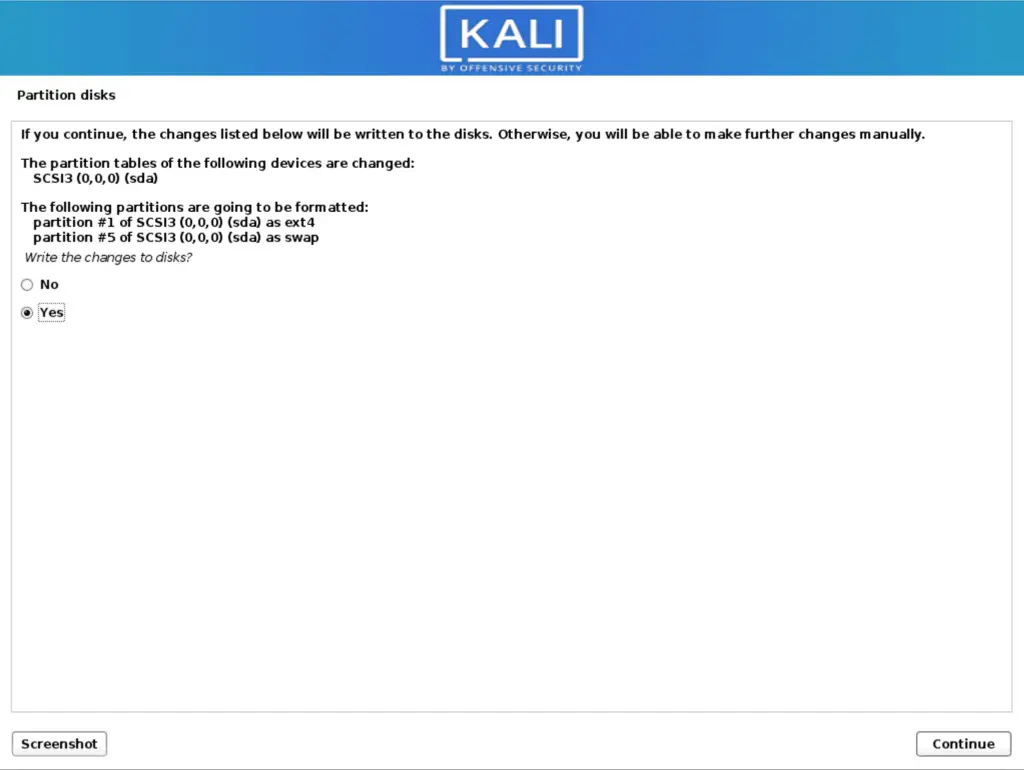 Confirm your choice again by selecting Yes and clicking Continue.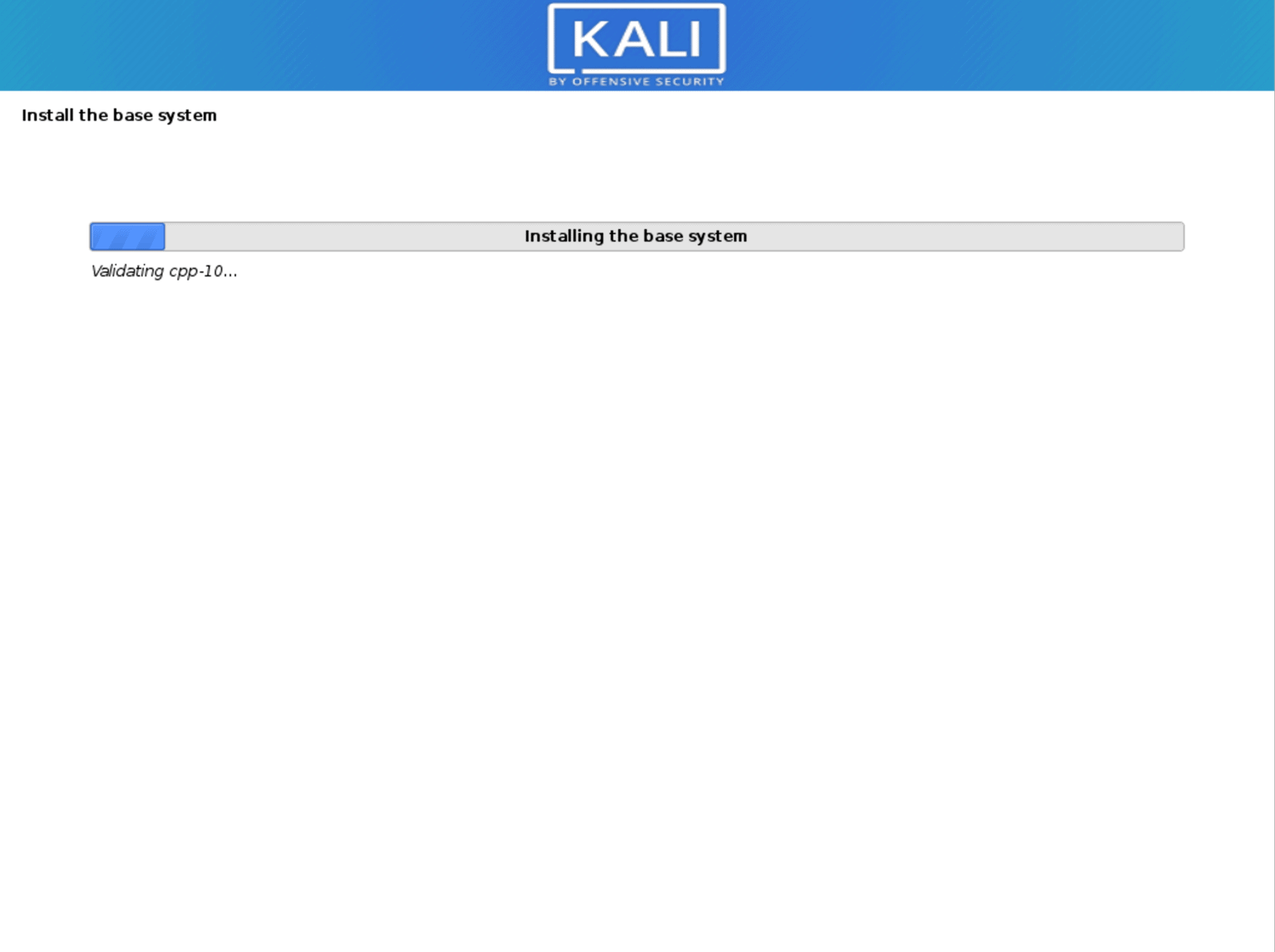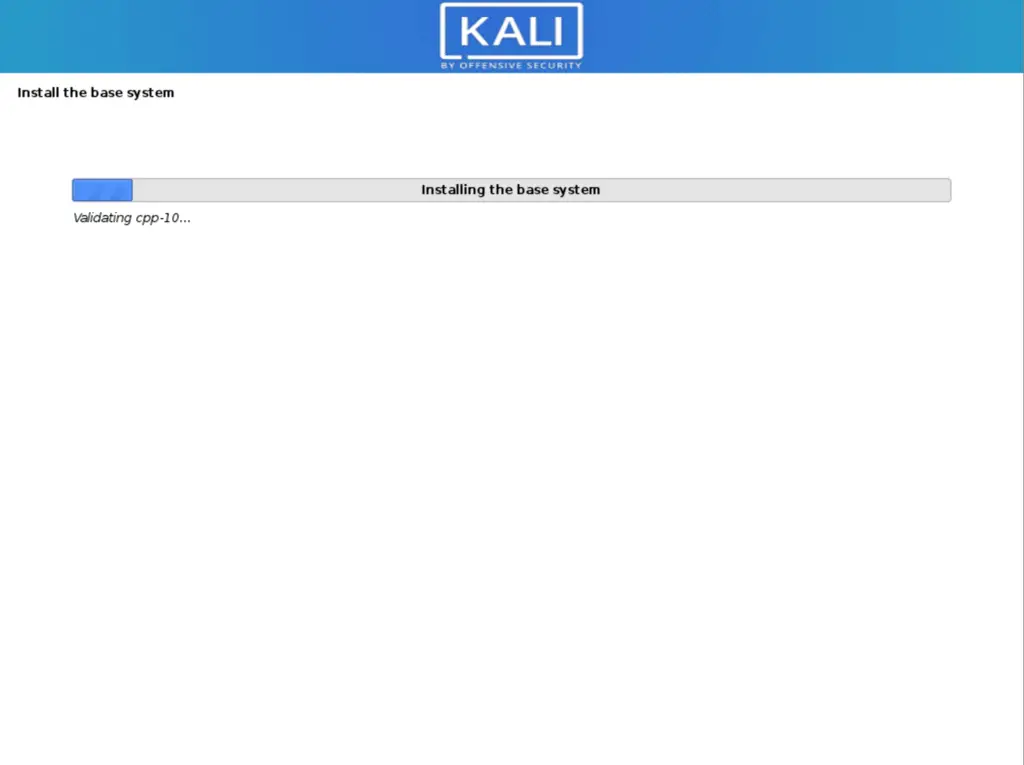 Wait around a bit – it may take a few minutes for your disks to be partitioned and formatted and the base system to be installed.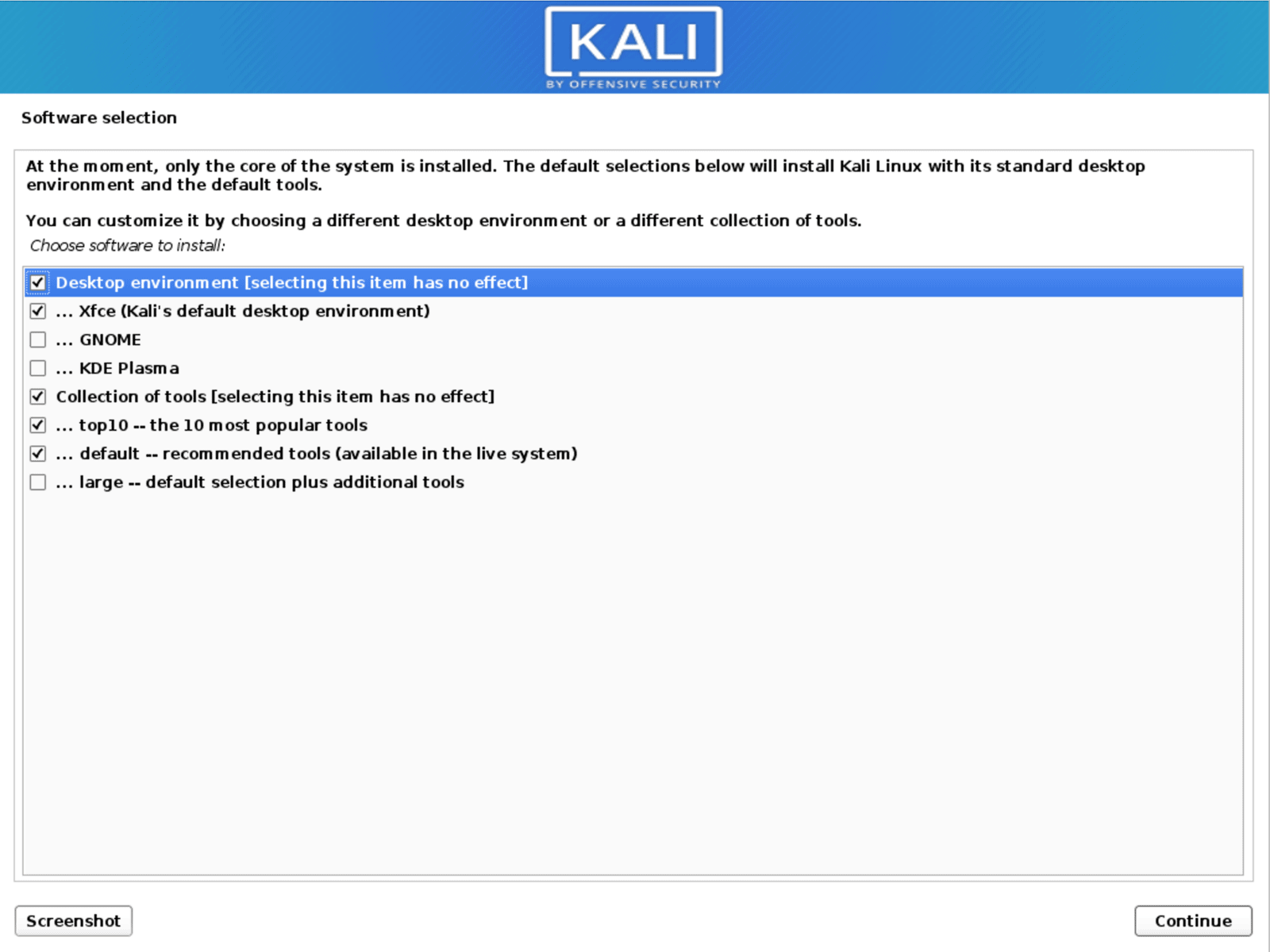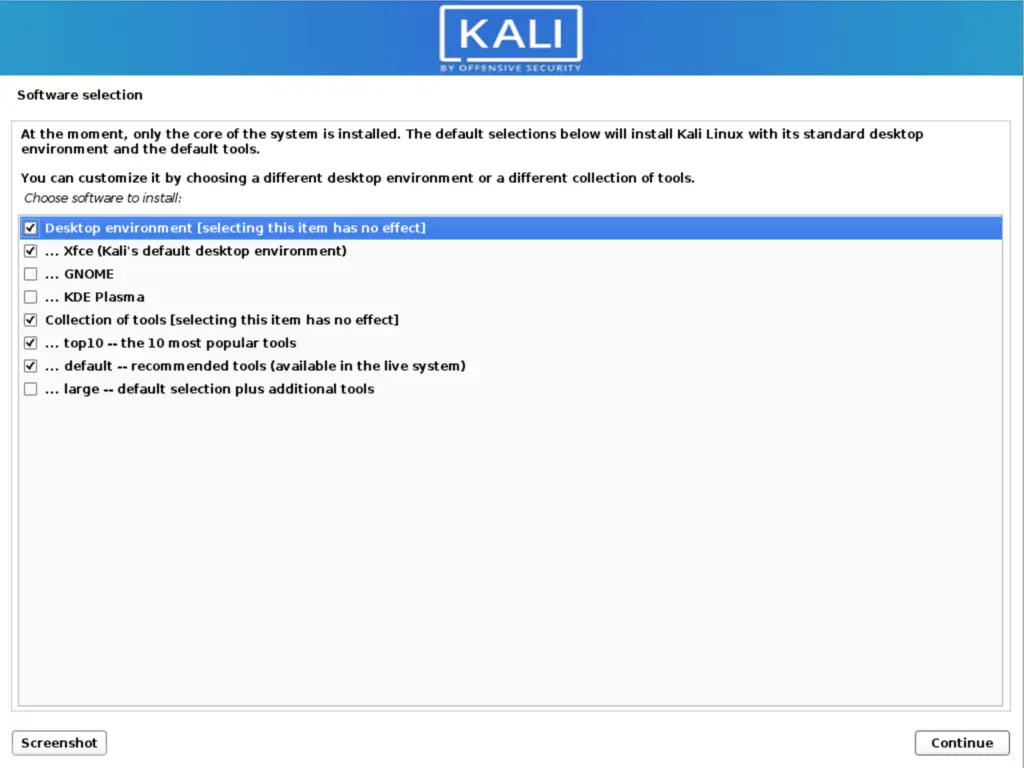 Once the base system is installed, you'll be asked what additional software packages should be installed – the defaults are a good start, so leave things as they are and continue.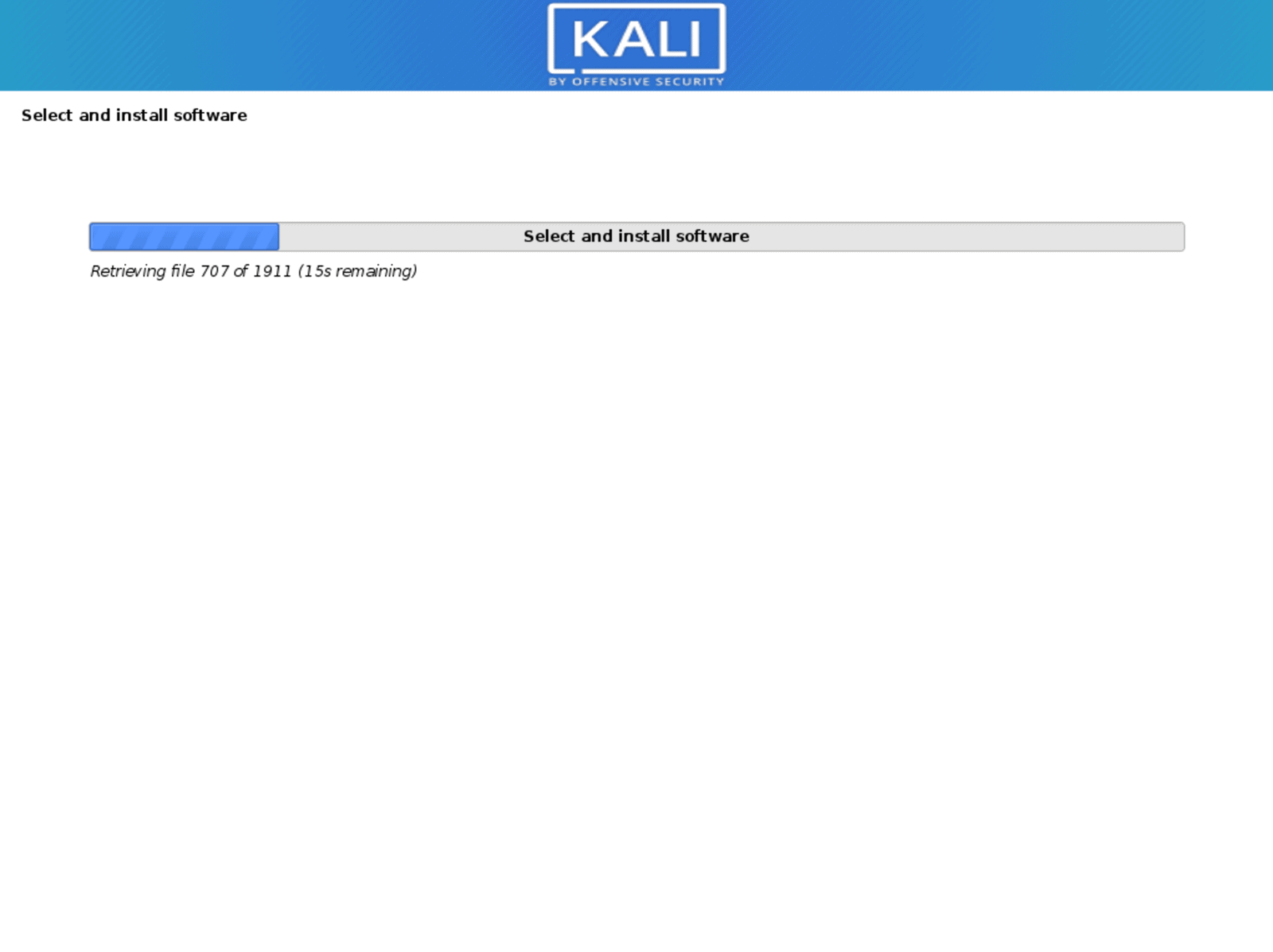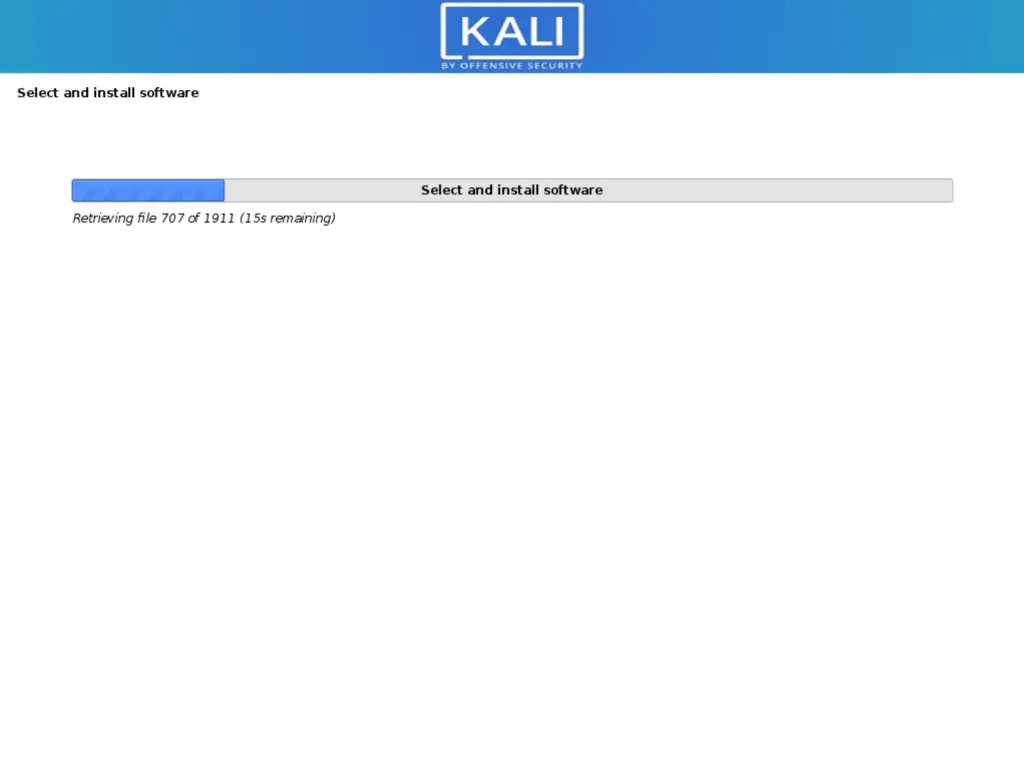 Again, the installation of packages may take a few minutes (or more).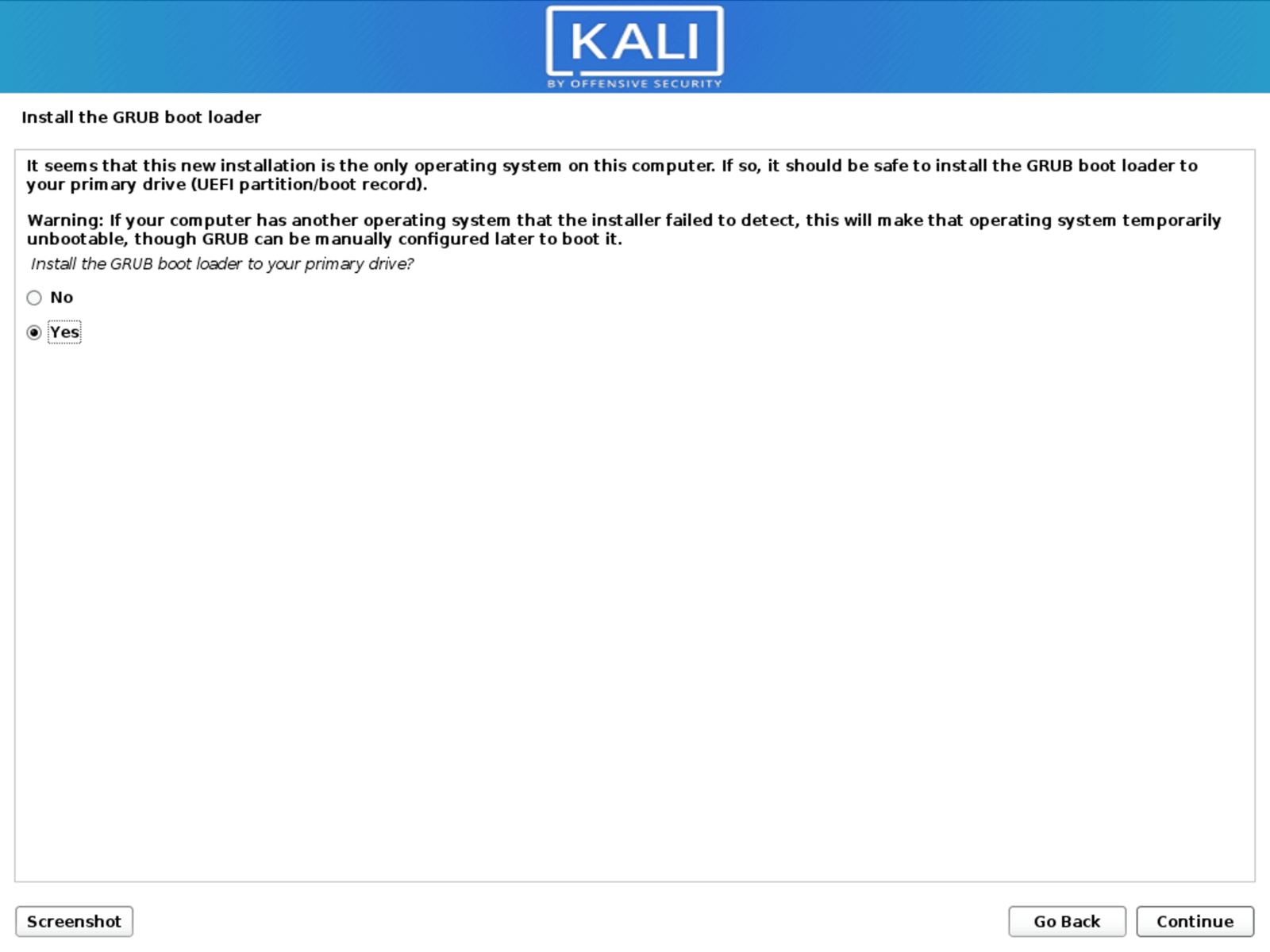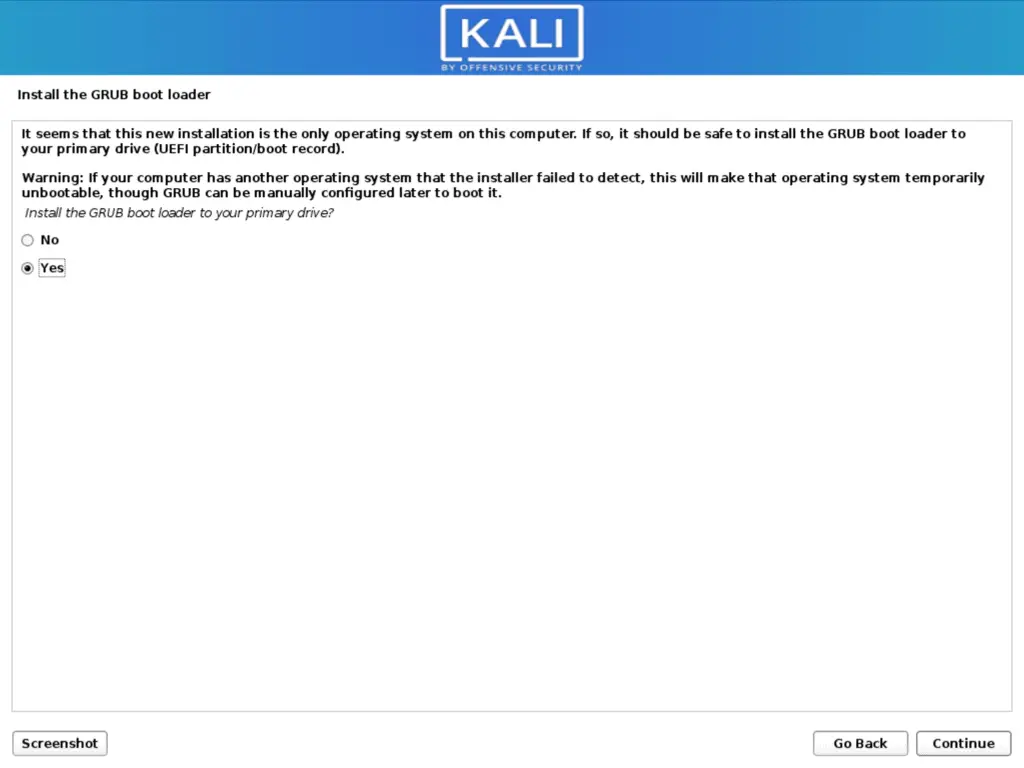 For your system to boot, the GRUB bootloader will need to be installed.
Select Yes to install GRUB on your primary drive and Continue.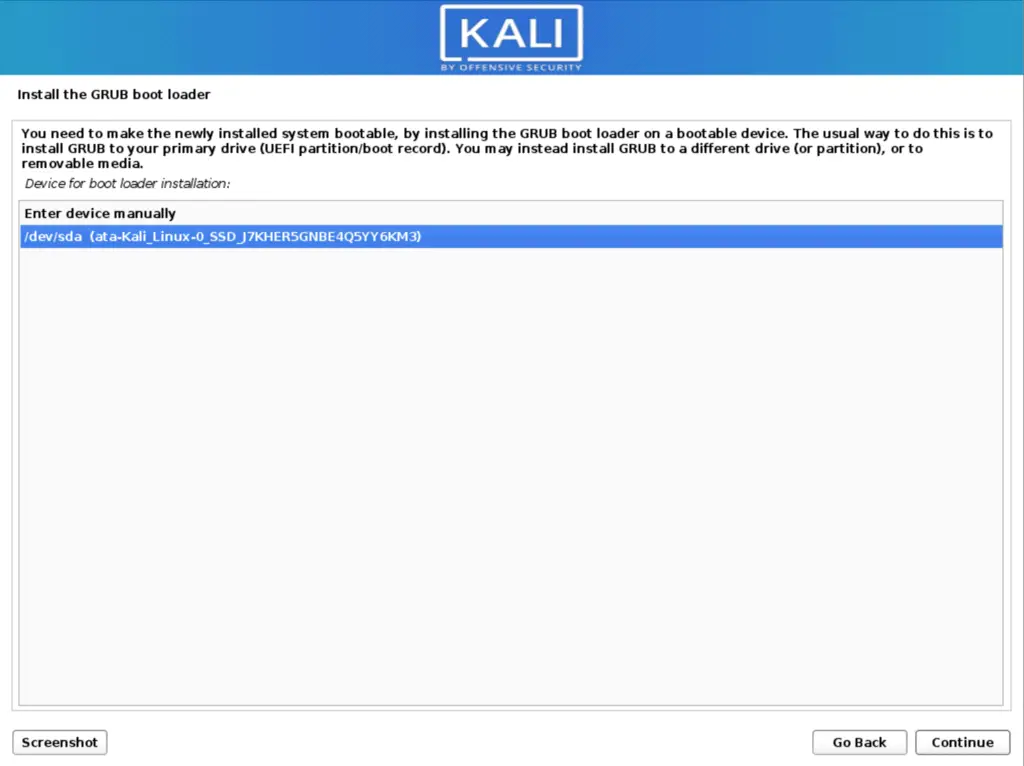 Select your hard disk to confirm that you wish to install the GRUB bootloader on it.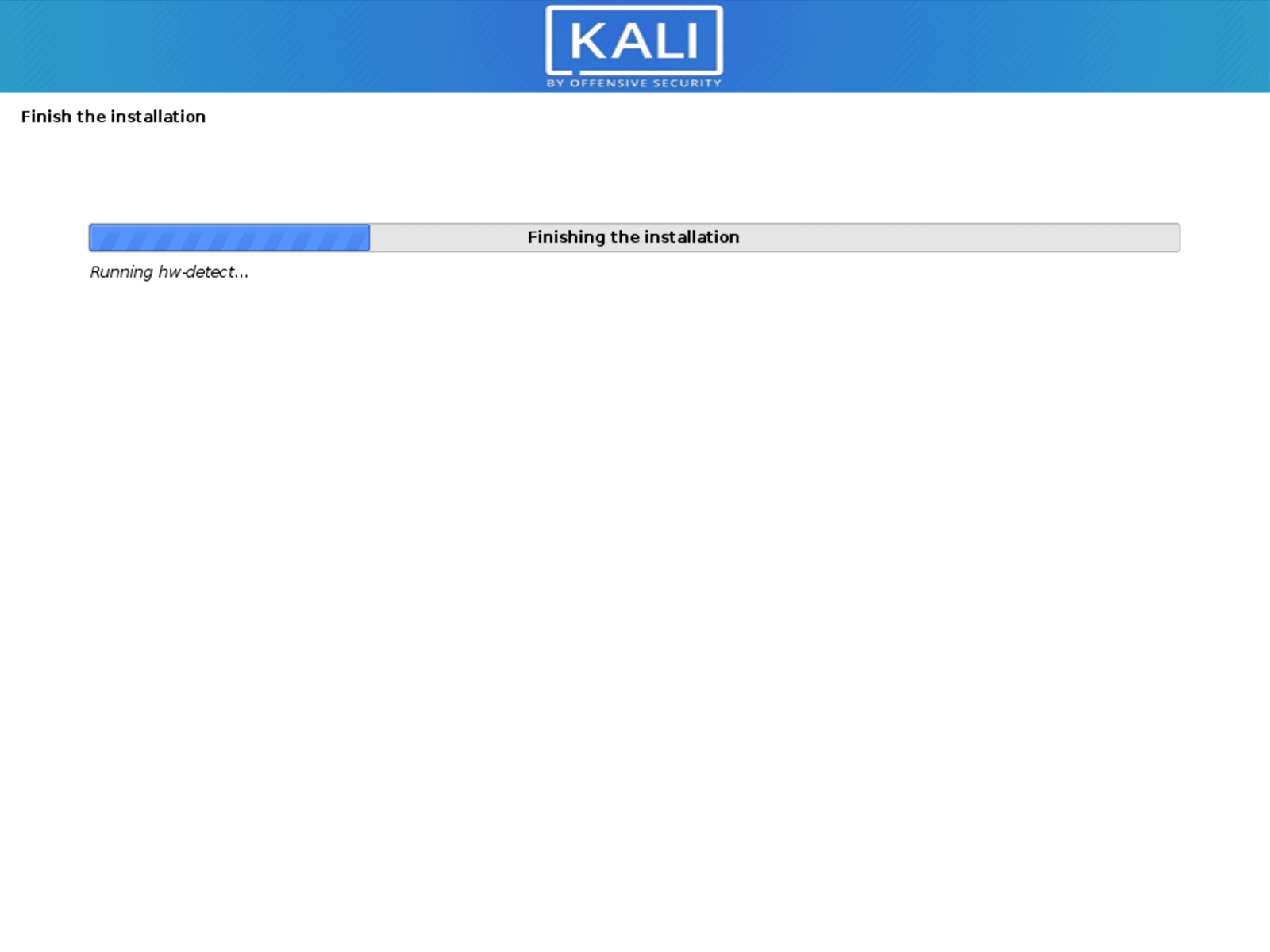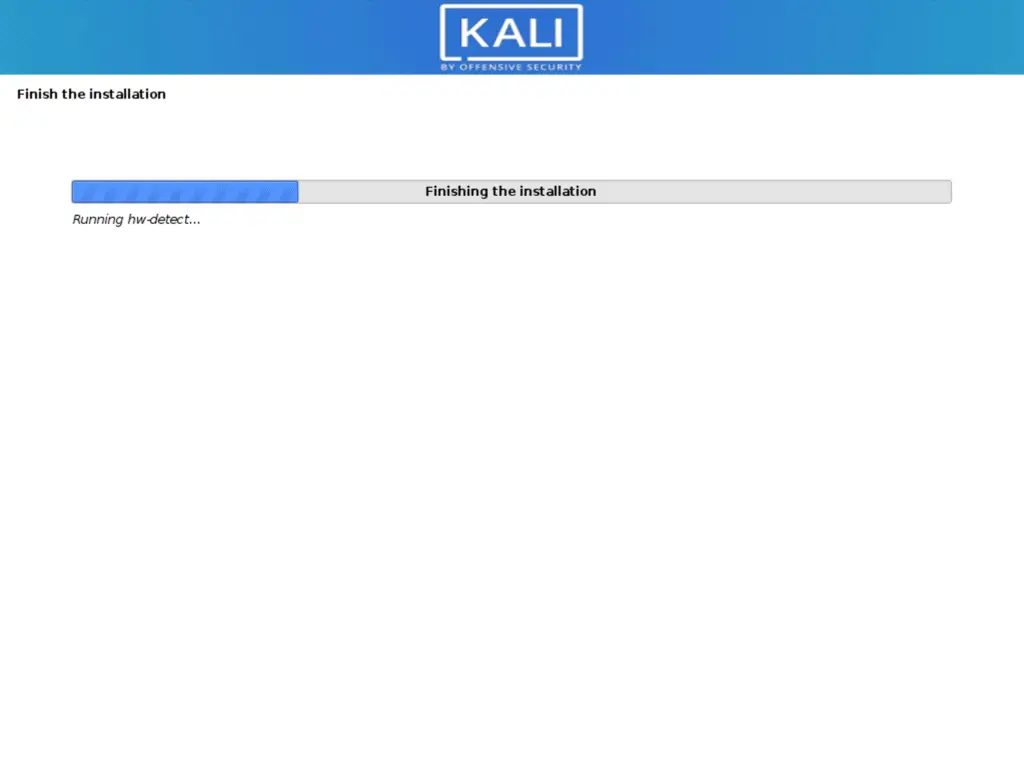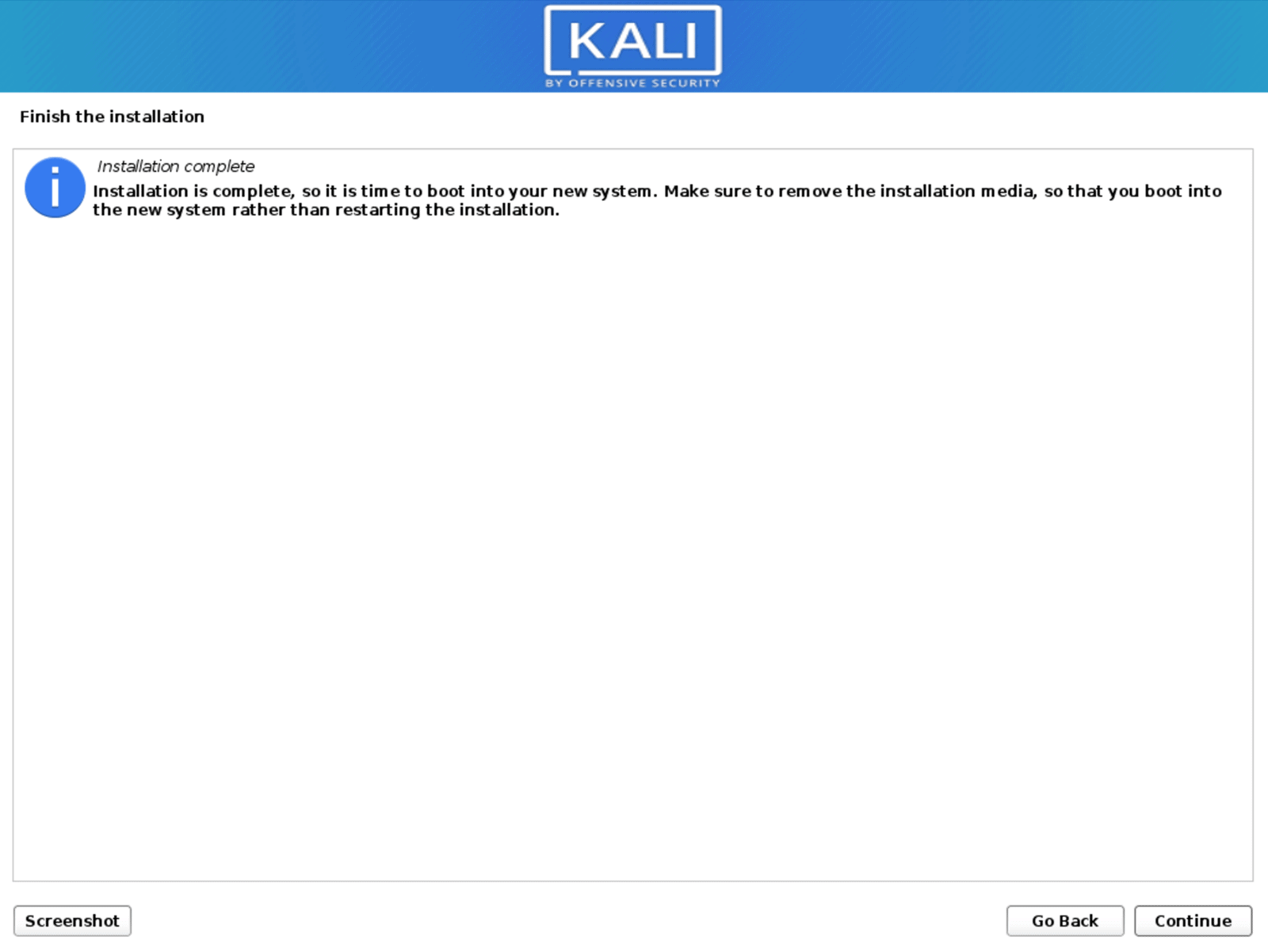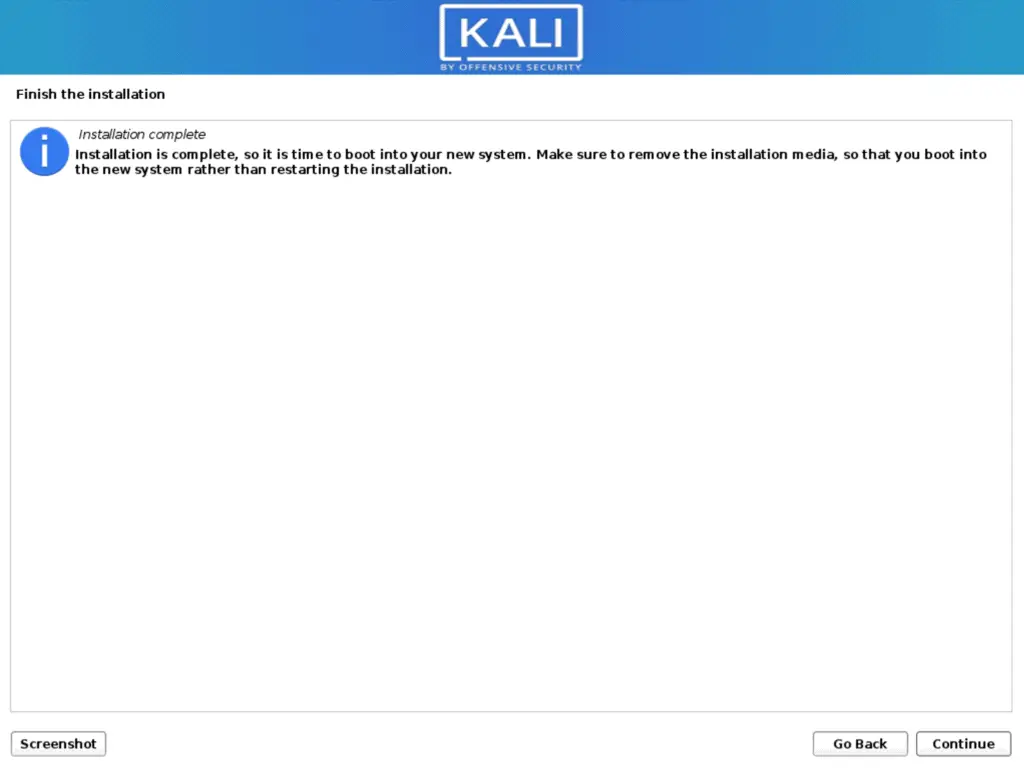 We're done! Remove the installation disc or USB stick and Continue to reboot.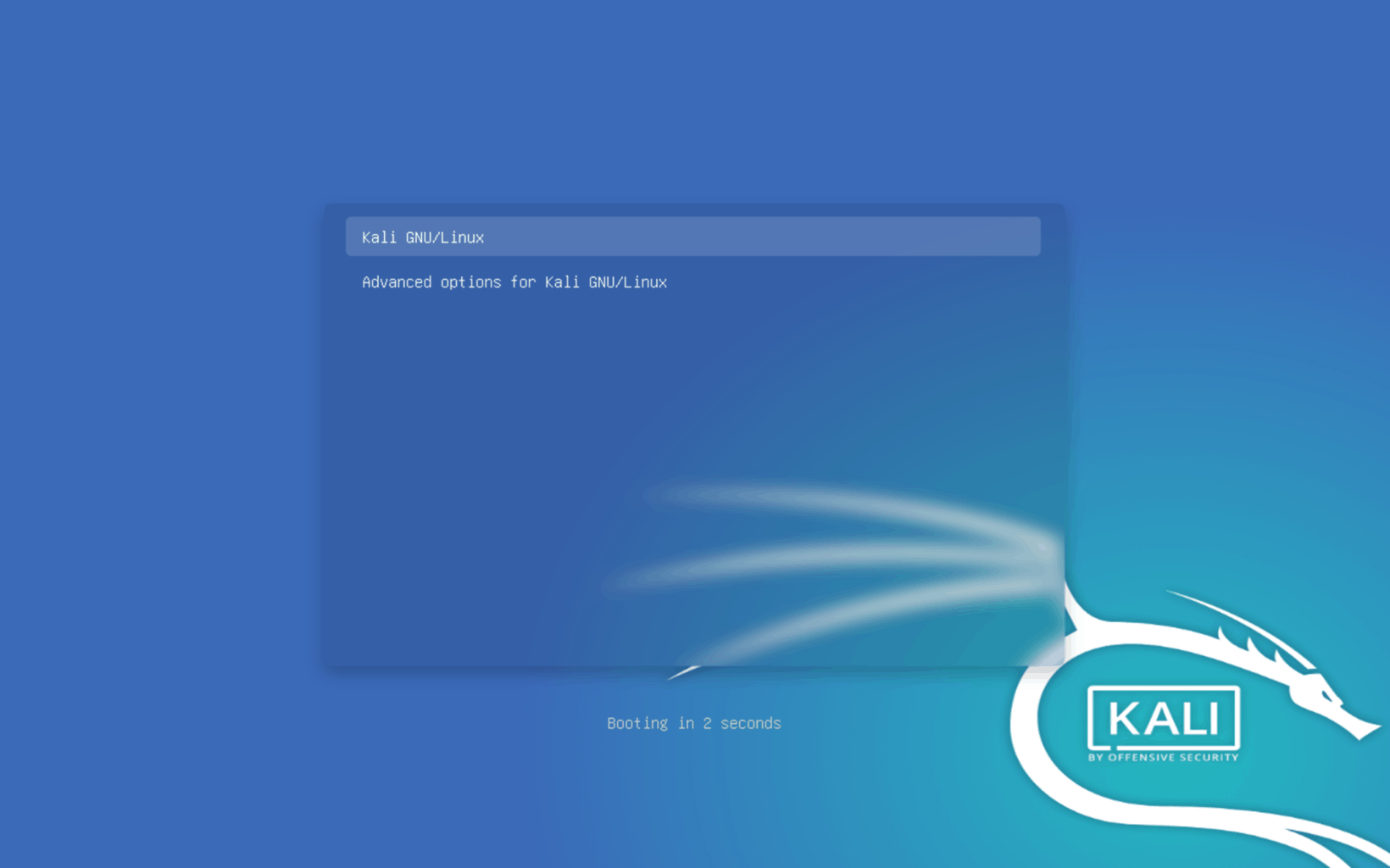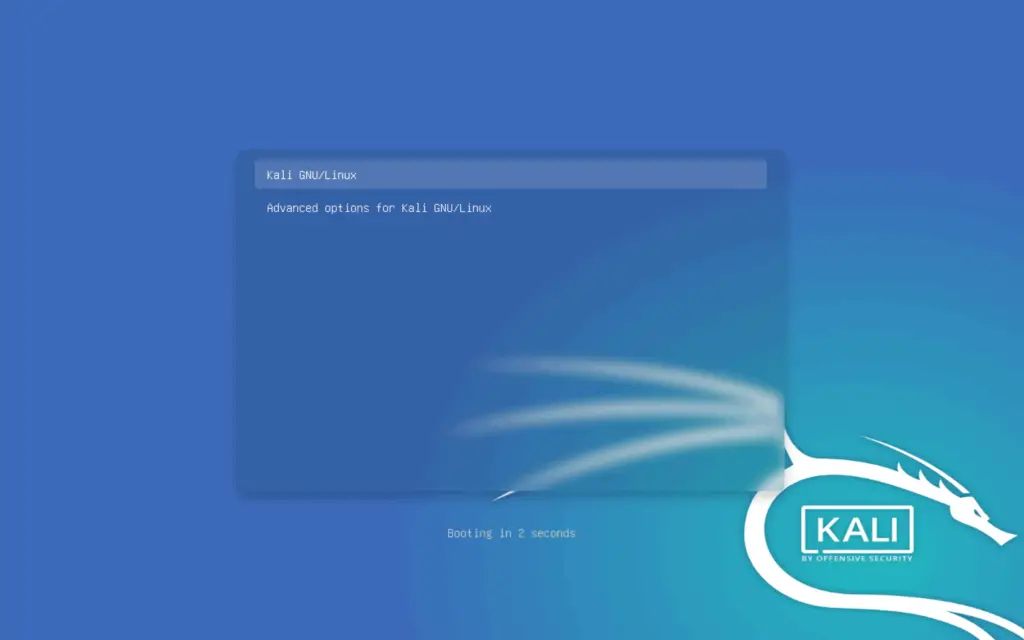 Once your PC boots, the GRUB bootloader will now be shown and will boot Kali Linux after a few seconds.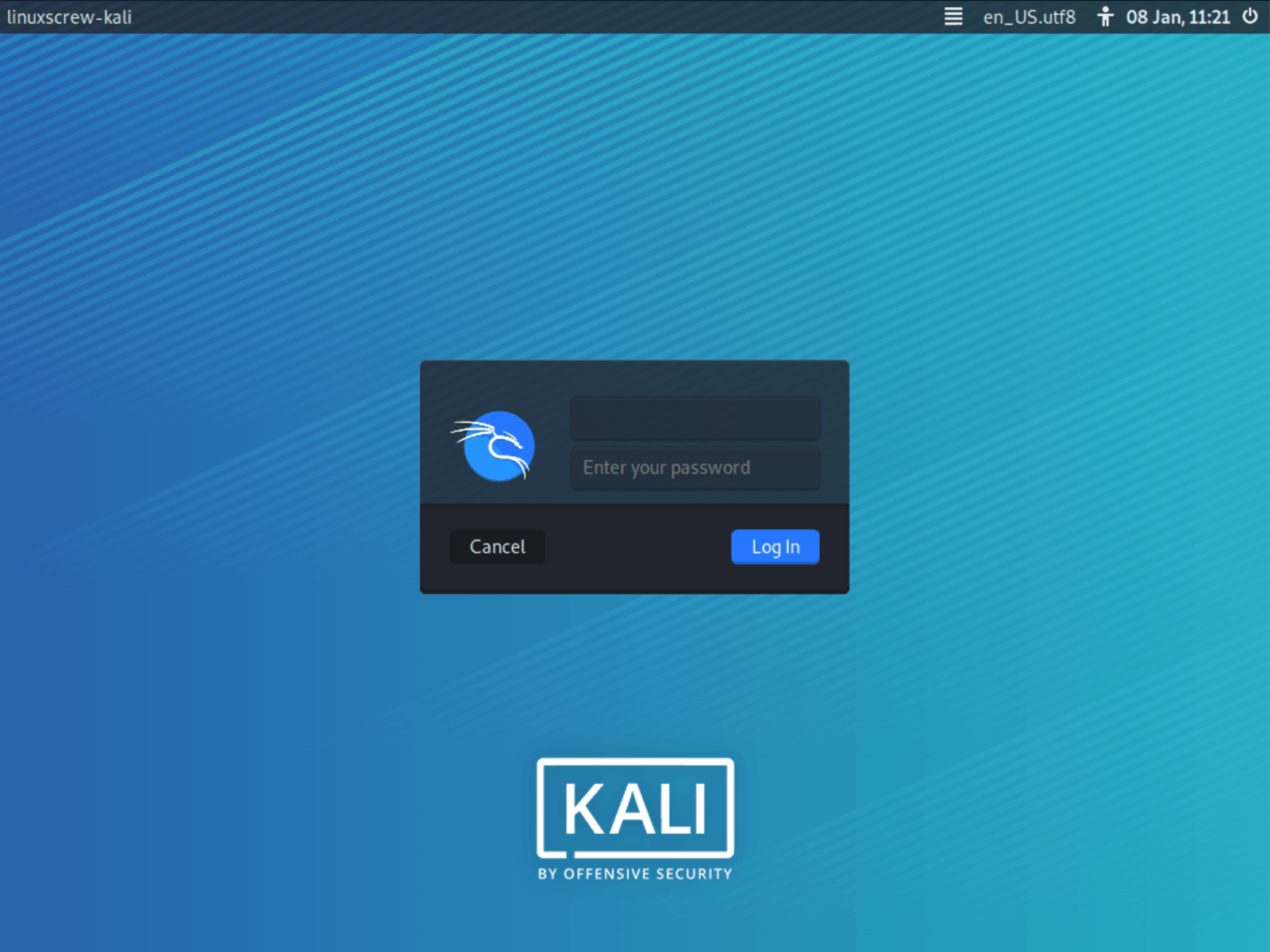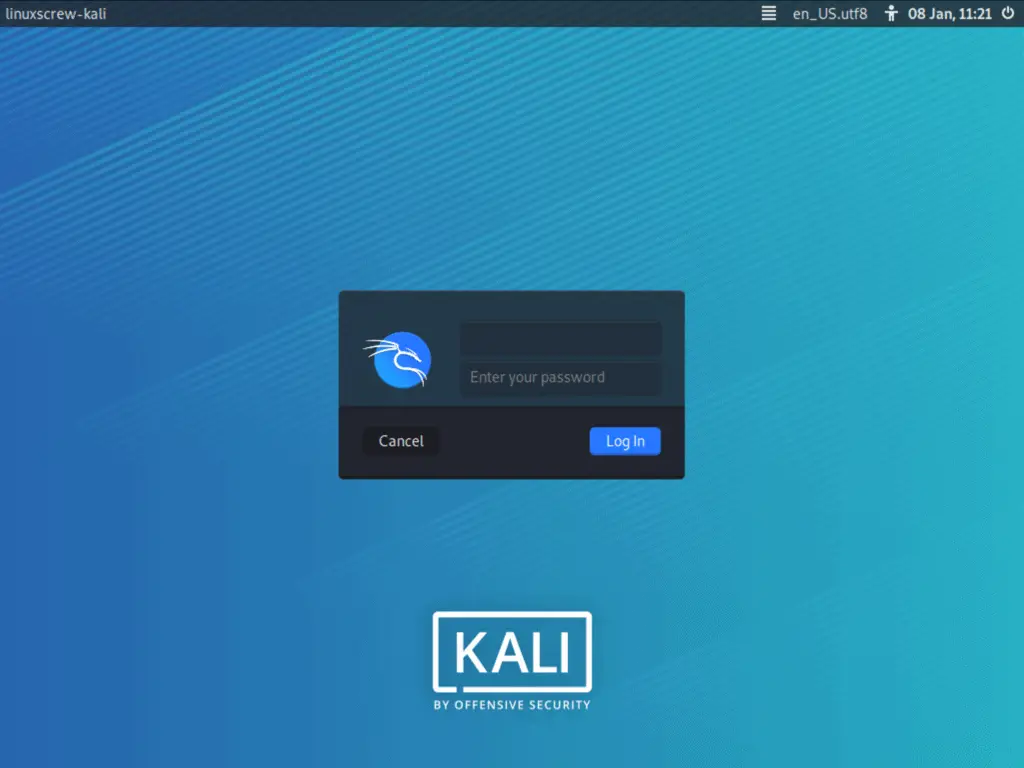 Log in using the credentials you supplied earlier.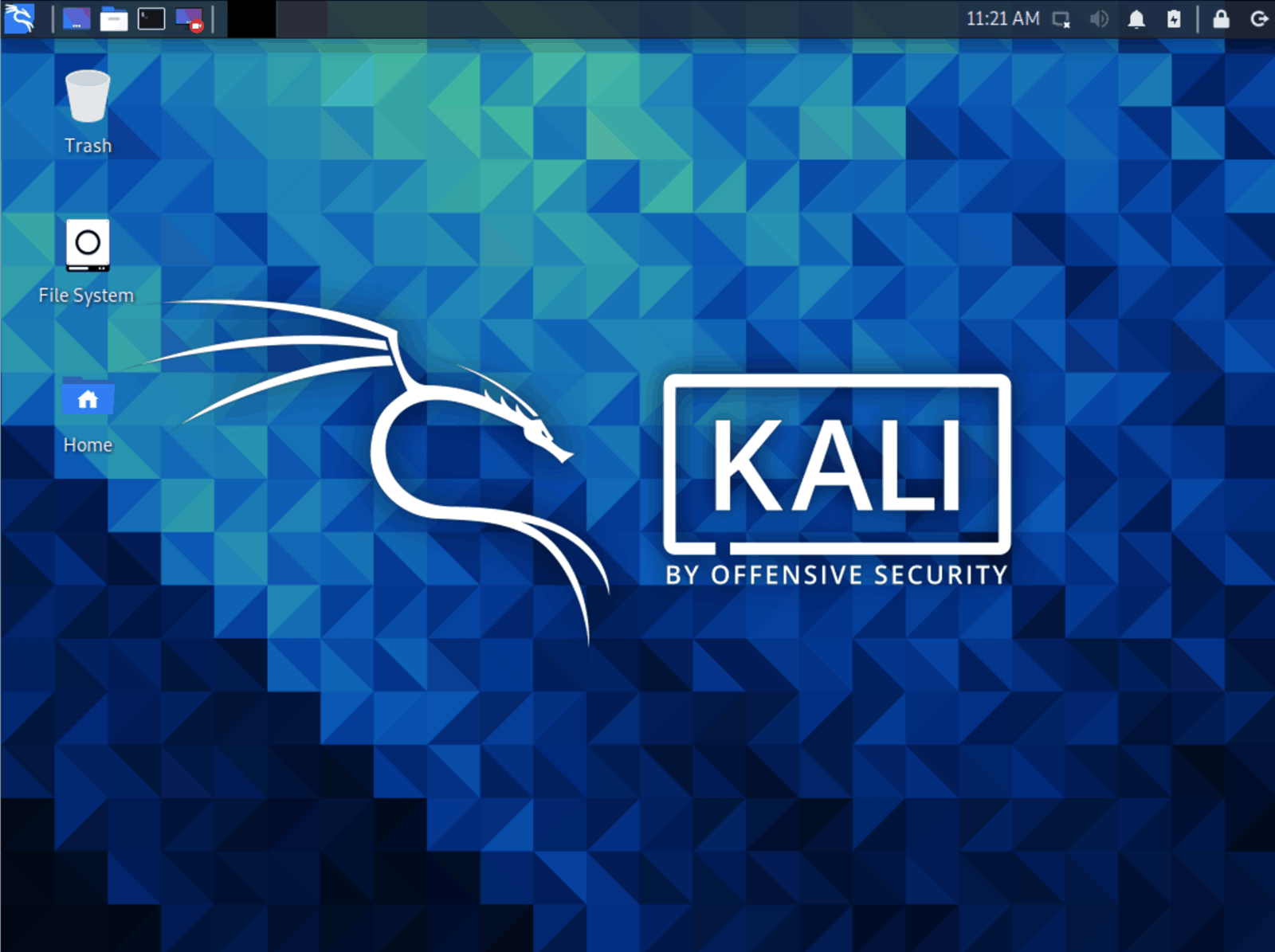 The Kali Linux desktop!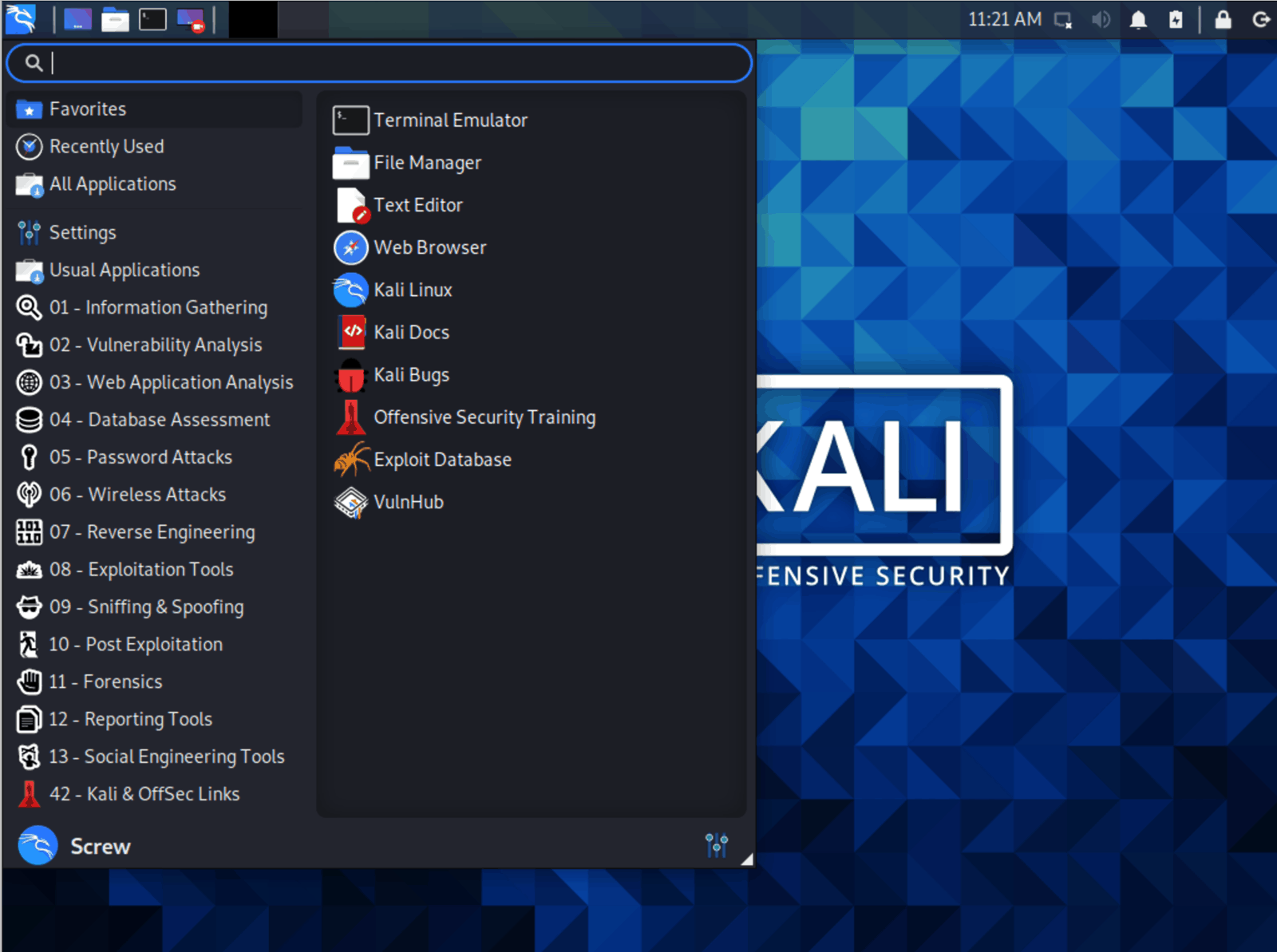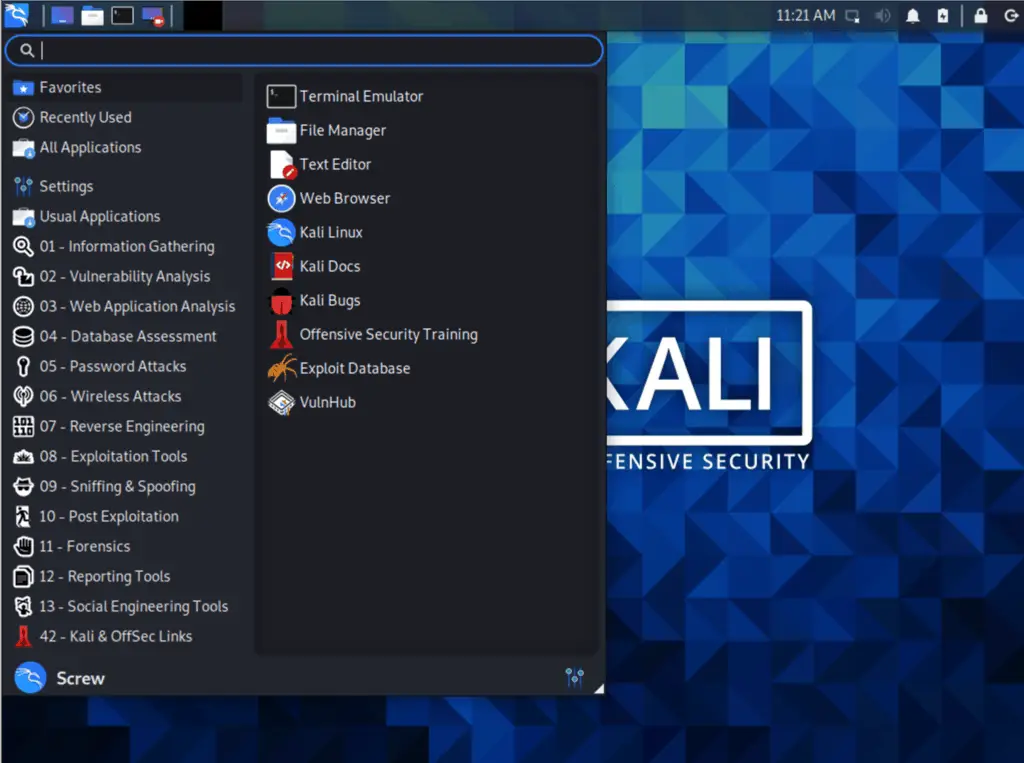 Check out the extensive Kali Linux documentation for instruction on using all of the security-related packages it includes.
Conclusion
Kali Linux is now installed and ready to test your network's limits! If you'd like to learn how to update Kali Linux, then be sure to check out our other guide.